Best 3 Zeny Electric Foot & Calf Massagers In 2022 Reviews
Having pain and tension in your feet can really impair your everyday life. Since you're here, you've already discovered an amazing world of feet massagers that act as a masseur and save you money at the same time. Luckily for you, you have stumbled across one of the best massager manufacturers. ZenStyle and their Zen Foot Massager.
ZenStyle Success Story
ZenStyle is a company founded in 2014. They started their business in the production of tents and hammocks. During the years their business grew, so today they offer different range of products for kitchen, fitness, home, and outdoor decor. Besides ZenStyle, there is a line of products like Zenchef and Zensports.
Delivering High Quality At Lower Prices
ZenStyle is one of the bestselling brands on eBay, Amazon, Rakuten, Groupon, and Walmart Online. The company guarantees customer satisfaction via quality service, fast delivery, and low prices. ZenStyle support team is there for you on Facebook, Twitter, Google+, their website with operators on-call.
Best 3 Zeny Foot Massagers Reviews
ZENY Electric Shiatsu Electric Leg; Foot Massager
Zeny Electric Foot Massager brings you kneading, rolling, scrapping and air-pressing massage. It was designed to bring straight forward quality massage- nothing more and nothing less. This Zeny Massager offers two massage modes and two levels of strength.
Simple And Straightforward
Zeny Electric Shiatsu massager allows you to modify the massager to your liking. On the command board, you will see mode and strength buttons that both have two intensities to choose from. This massager also offers the possibility of setting a timer, which allows complete immersion into the massage experience.
Looking To Feel Relaxed
Zeny claims the massager is perfect to improve your circulation and metabolism. But also recommended if you are just looking to reduce stress and promote relaxation in the comfort of your office or home.
Characteristics:
Suitable for feet less than 28cm long
Weights 4 kg
Massager size 17x14x9.4 inch
Comes in white color
ZENYShiatsu Kneading And Rolling Foot Massager
Another amazing product by Zeny offers a combination of kneading, rolling and massaging to provide you with the best reflexology therapy experience.
Personalized Reflexology Therapy
This massager lets you choose between 2 programs: manual and automatic- the later offers 4 optional modes to choose from. Since this massager focuses on targeting the specific pressure points on your soles, the manufacturer added those options so you can freely focus the massage on tiptoes, arches or soles of your feet. On top of everything, this Zeny Shiatsu Foot Massager comes with heating option to really boost your circulation.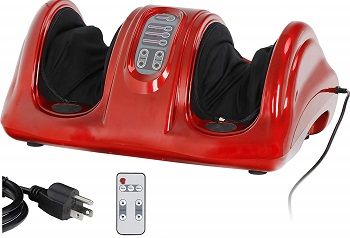 Explore Your Preference
If you really know what you like in a massage or you are curious to try something different, Zeny offers a manual mode that lets you focus on a special area of the feet, with the possibility of changing the massage direction. Also, Zeny Shiatsu Foot Massager comes with adjustable speed. You can easily switch it to a calf massager just by laying flat on your bed and inserting the legs into the massager.
Details That Count
The operating of the unit is possible via the touch-panel or with the remote control. Zeny Foot Massager is equipped with removable foot covers that are simple to clean. The sleaves are made of velour, micro-suede fabric that feels amazingly soft to your skin.
Characteristics:
Comes in red color
23,5x14x10 inches
13lbs
Auto timer set to 15 minutes
ZENYFoot Leg Calf Shiatsu Massager
The third of the Zeny Foot Massagers is designed to massage your feet and calves at the same time.
Ergonomic Design
Zeny foot and calf massager was designed to replicate the techniques used by chiropractors and massage therapists. It offers Shiatsu, kneading, vibration and rolling that is strategically placed onto the ergonomic areas of your feet, and legs and calves. For that reason, there are 8 massage discs stationed at feet level and 4 discs at calf level.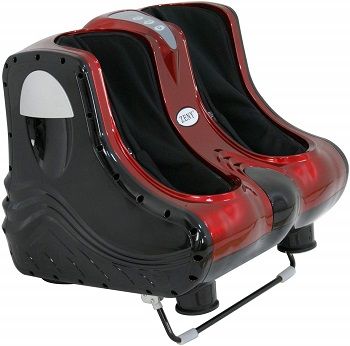 Best Things Come in 3s -3 Modes, 3 Intensities And 3 Temperature Settings
Zeny Feet Leg Calf Massager lets you choose 3 different custom modes for a foot massage and 3 intensity levels for calf massage. It has an integrated heating feature that is also adjustable to 3 levels. All of the mentioned can work separately.
User-Friendly
This massaging unit is operated with the touch panel placed on the top of the massager. There is an integrated auto timer set to 15 minutes since the recommended massage time is a maximum of 20 minutes. It is made out of durable plastics so you can enjoy it for years to come.
Characteristics:
Comes in red and silver color
Weights 14 kg
56x 51,5x 48 cm is the package size
Limited to shoe size 9.5US and calf diameter of 4inch
Conclusion- Zeny Foot Massagers
All the reviewed massagers are up to point. They offer to deal with symptoms of pain and discomfort of your feet quite well. The review described Zeny's massagers from cheapest to more expensive, and from simple to more complex massage properties. To conclude – I would argue that the best massager from ZenStyle is the second reviewed – ZENYShiatsu Kneading Foot Massager. It provides feet and calf massage, along with many options to really personalize the experience. In my opinion, it also offers the best value for money.
To really dig into the world of foot massage devices and get what you're looking for, check out some of the best foot and leg massagers available on the market. If you are specifically looking for feet and leg massager, check out this leg massager with heat and best foot massager review.