Best Moji Foot Massager For Sale In 2022 Reviewed By Expert
You're suffering from tension and pain in your feet but can not seem to make up your mind about finally investing in a massager. I present to you this Moji Massager review to save you some money but not at expense of a quality massage. Without further ado: Moji Foot Massager review.
Does Moji Sound Familiar?
Awarded Brand
Moji is a USA company that creates a number of products in the field of massagers. They have developed many patented devices such as heated rollers, heated wraps, and heated massage balls. They have received numerous rewards for their designs. Moji focuses its business on making sure you go on with your life stress and pain-free.
Moji's Products – Simple Yet Efficient
All of their massagers are the travel-friendly size and can be used on different body parts. They use stainless steel spheres that are easily cleaned and maintained. Moji offers free expedited shipping and 30-day returns. Also, their products are available on Amazon and on their website. Also, customer support is available at all times.
Moji 360 Will Roll Your World
Moji 360 Massager – A Professional Line Of Massagers
Moji 360 line consists of 3 massagers Moji Foot Pro Massager, Moji Curve Pro Massager, and Moji Mini Pro Massager. They are all made of spheres that allow the massager to reach and deeply massage the tissue. They are all lightweight and small in size which makes them convenient to use on the go.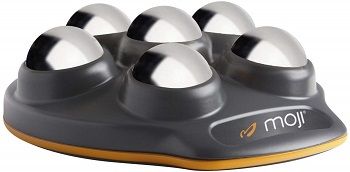 Moji Foot Massager
Moji Foot Pro Massager is made of 5 stainless steel spheres that massage your feet. You are to put the massager on the floor and gently roll your feet over it. The massager base is made of rubber to ensure stability.
Use It Freezing Cold
Moji Foot Pro can easily be cleaned since it has no electronic parts. It is advised to put it into the refrigerator for an ice massage that really helps inflamed muscles after a workout or a day of physical activity.
Moji 360 Foot Massager Plantar Fasciitis – Dual Effect Massager
This Moji 360 Foor Massager is very helpful with the symptoms of plantar fasciitis. Since it stretches and massages the plantar fascia it successfully deals with tired and painful feet. Also, it can be used also for any kind of fibromuscular disease of feet muscles and joints.
Characteristics:
Dual therapy massager
4,4 x 4 x 1,5 inches
1,1 pounds
Comes in black with silver or orange spheres
Other Two Versions Of Moji 360 Massager
Line Not Just Limited To Feet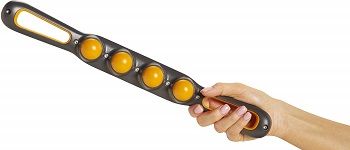 Moji 360 Curve Pro Massager is equipped with 4 stainless steel massage spheres that focus mostly on the bigger muscle groups such as calves, hamstrings, quads, and glutes. It can also be frozen for a more effective massage. Moji Curve Pro can be used also to break up scar tissue since it can be used more vigorously because of its size.
All The Best Things Come in 3s
Moji 360 Mini Pro Massager is the handheld version of the Moji 360 line massagers. Since it has a slip for the hand it can be more easily manipulated to reach areas such as neck and shoulders. It is made out of 7 stainless steel spheres that are 3 different sizes.
Conclusion – Moji 360 Foot Massager
With all things considered this Moji foot massager is a simple and effective way to deal with pain and discomfort in your feet. What I like about it are its size and elegant design. I'd recommend it to anybody dealing with pain from workouts or sports injuries on the one side, and with medical conditions such as plantar fasciitis on the other.
For more information on other foot massage devices check out my review on the best-rated foot massager. If you're looking for something in this price range there is a foot massager for sale as well as this cheap foot massager.