Best 5 Miko Foot And Calf Massagers For Sale In 2022 Reviews
You have decided to invest in a massager and now what?
Having to decide which massager to purchase can really be overwhelming. Online shops offer so many products that look almost the same. Since it is not like you buy a massager every day – there are some tips that reviews like this provide in order to find a perfect match without wasting your time. In this review: Miko Foot And Calf Massagers. Welcome.

What Is Miko Brand All About?
Miko Company specializes in massage products manufacturing. They spare no expenses when it comes to investing in product research and development. Miko emphasizes that their company cares for the customer. You can really see that by how fast and devoted they are with dealing with customer queries.
Shop Stress-Free
Miko offers free shipping worldwide. Moreover, you can ask for your money back within 30 days of purchasing the product. Next, for all their product you can extend the warranty to 1 or 2 years by paying a small additional amount. Their products are available on their website and on Amazon.
Best 4 Miko Foot Massager Reviews
Miko Foot Massager Machine with Heat, Shiatsu Electric Foot Massager
Platform Design – How Does It Affect The Massage?
Miko Shiatsu Foot Massager has s platform design, which means there are no sleeves to put your feet into. That design has its up and downsides. For downsides, it is obvious that there is no possibility to deliver compression as a massage technique. The upside, which is not that obvious is that there is no feet size limit to that kind of massagers.
From The Technical Standpoint
This Miko Foot Massager has 2 separate panels, that contain 18 massaging nodes. There are placed with thought, to target known pressure points of the soles. Miko Shiatsu has 4 modes to choose from. Those modes combine 2 properties of the massager, pressure, and heat – so the customer can personalize the massage by choosing high pressure or low-pressure massage – with or without heat.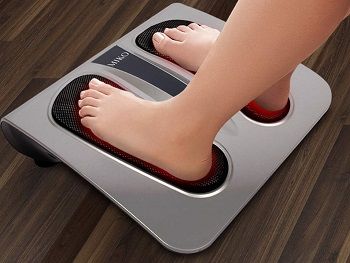 Benefits Of Miko Foot Massager With Heat
Miko Shiatsu Foot Massager is designed for improving circulation and relieving pain and tension in the feet. Since the reflexology pressure points are targeted the whole body effect can be achieved – and the user can feel relaxed and recuperated. The manufacturer states that the positive effects can be experienced for those suffering from plantar fasciitis, nerve damage, and many more medical conditions.
Characteristics:
Measures 2.4 x 15.9 x 5.5 inches
Weighs 9.1 pounds
Heat feature
4 massaging modes
Miko Foot Massager with Multi-Level Settings
Heels Excluded
Next Miko Foot Massager is something completely different. It has a 2 chamber design, which encapsulates the entire foot and adds the pressure feature and more enriched massage experience in general. This massager excluded the heels from the massage due to precautionary measures.
Packed With Options
This Miko Foot Massager comes with many properties. For starters, it has 5 different pressure settings that pressure the specific points of the feet. Moreover is delivered this pressure by deep kneading, rolling and vibration. There is an always present heat option, without which the full shiatsu experience wouldn't be proper.
Controlled By The Remote
Recommended use for this Miko Foot is 15 minutes per day with your socks on. It is a good idea to start the massage from level 1 and add the pressure as the massage lasts. The great thing about this unit, user experience wise, is that it comes with a remote. In that way, you can sit back and enjoy without constantly bending over to adjust the features.
Characteristics:
Measures 43x40x20 cm
Weighs 11.9 pounds
Feet covers are removable and washable
15-minute auto shut – off
Heat feature
5 pressure levels
Miko Foot Massager Reflexology Machine
Air Pressure With Miko Foot Reflexology Machine
Next Foot Massager by Miko stands out with its open design. It is not a platform or a chamber type of massager – but something in between. This unit is equipped with impressive 40 massage nodes. Moreover, Miko still offers the air pressure option that operates via 4 air pressure pads. The pressure function can also be modulated since there are 5 different pressure levels available.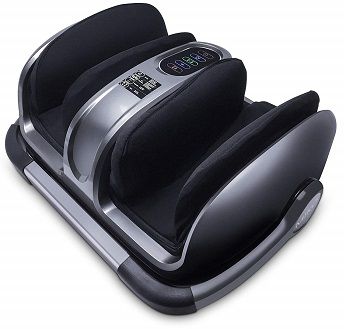 Plus Vibration, Deep Kneading And Heat – Miko 360 Foot Massager
Other properties of the massager are 3 massage modes to choose from, vibration and deep kneading function. Heat is the standard add on and for a good reason – it additionally promotes blood flow. This Miko 360 massager is not just a foot massager, it can transform into a calf and ankle massager by just changing the position of the massager with an adjustable arm that changes the angle of the device. That is how it got its second name.
Design Of Miko Foot And Calf Massager
This Miko Foot And Calf Massager comes in charcoal gray color. On top of it, there are 5 soft-touch buttons. Except for the on / off button, it has air pressure, vibration, heat and massage orientation (3 available) button. The cloths for the feet are removable and washable for your convenience.  It is a large and heavy device, but with all these features it is no wonder it would take a toll on the size.
Characteristics:
Measures 23.7 pounds
Heat function
Removable and washable cloths
5 pressure levels
3 massage modes
Miko Acupressure Foot Massager with Powerful Heat
New York Design
This Miko Foot Massager is very appealing to the eye. It comes in the gray shade with the platform itself being blue. This design came from New York and you can really feel that urban sense of style in this Miko massager. It is also lightweight and compact to fit in any surrounding – home or office.
Acupuncture Principles
The acupuncture points play an important role in this massager engineering. The nodes are positioned in such a way that they target the points that are crucial to the whole body – not just – feet – experience. The effect is a long-lasting stress relief and the feeling of being re-energized.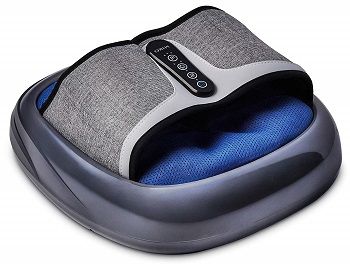 Fairly Personalized
Miko Acupressure Foot Massager delivers the rolling massage with air pressure. Those two features can be customized. You can switch to different pressure levels and control the speed. Additionally, there is the heating feature. To choose the perfect setting for yourself – there is a touchpad control panel on top of the massager.
Characteristics:
Weighs just 6 pounds
Heat feature
Up to size 10.5 US for men and 12.5 for women
Massaging styles: acupuncture, rolling and air compression
Miko Shiatsu Home Foot Massager Machine With Switchable Heat
Miko Shiatsu Home Foot Massager
The last Miko Foot Massager to review is the Miko Home Foot Massager. It has a lot in common with the previous Miko designs. Massaging styles it uses are deep kneading, rolling and vibration. Of course, there is a heating feature to complete the circle. 5 pressure settings stayed present in Miko Home.
Quality 30 Minutes
Recommended time to use this massager is 30 minutes, as with others is advised to start with the minimum intensity and then slowly increase. To gradually level up you don't need to bend over. Miko is including 2 wireless controllers so you can really sit back and enjoy the ride.
Miko Home Sleek Design
This unit was created to fit under the most sofas and beds. You can easily take it with you to the office and store it anywhere you please. The clothes are removable and washable so you can share it.  There is a 1-year warranty for this specific massager – so if you are not 100% satisfied feel free to get your money back or exchange the unit for another Miko product.
Characteristics:
Measures 17 x 16 x 9 inches
Weighs 11 pounds
Heating feature
Removable and washable cloths
2 wireless controllers included in the package
User Manual
For Miko Foot Massagers there are no instruction manuals available online. For that reason it is important to carefully read the manual you will get within the package. There – besides the instructions and product description – you can find troubleshoot checkpoints for the cases the massager is malfunctioning. All in all very useful to keep at arms reach while using the massager.
Conclusion – Miko Acupressure Foot Massager with Powerful Heat
All of the reviewed massagers by Miko are quality massagers in their niche. Therefore it is hard to say which one is the best. I personally prefer the Acupressure Miko Foot Massager for its splendid design and lightweight which frees the user from being stuck in the same sitting position while enjoying the massage.
As you've probably realized by now – the market is full of different foot and leg massagers. For that reason it is best you search for the specific type of massager that suits your needs. I suggest you check out the air compression leg massager and the leg massager with heat, as I find them the most effective types for both – symptoms of medical issues and tired, overworked feet.