Top 5 Foot Bath (Spa) And Massagers To Choose In 2022 Reviews
Are you thinking of buying a foot bath spa massager?
Then you should read this article!
You will find detailed reviews of the best five models of foot bath massagers and spas. Read and compare their specifications and see which model will be the best for you.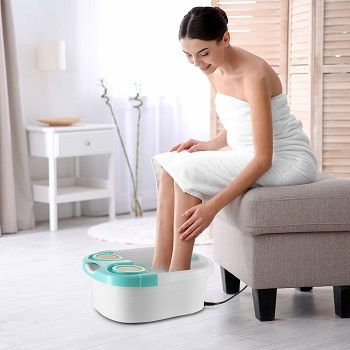 Things To Consider Before Buying A Foot Bath Spa Massager
What Is A Foot Bath And Spa Massager?
A foot bath or a foot spa is a small plastic tub where you can dip your feet and enjoy a spa session at home. Foot baths and spas often feature massage rollers, water jets, pumice stones so you get the relaxing massage and pedicure treatment at once.
Heat Feature: Yes or No?
Heat function relaxes muscles even further. Some footbaths or spas heat the water while in some you have to pour the warm water in yourself. If you like to soak your feet for longer, you might want to consider a foot bath massager that keeps the water warm. You can also look for foot spas where you can adjust the water temperature.
Other Features To Look For
Depending on your preferences, you can choose foot bath massagers with water jets for bubbles, rollers, vibrations, etc. Some also feature pumice stones, compartments for salt and petals, brushes. Decide which features you need and find a foot bath massager with these settings and features.
Size Of Foot Bath And Spa Massagers
Foot bath massagers can be quite bulky but you can find some smaller versions. They are made from plastic so it is easy to carry them, but many also come with a carrying handle. Wheels can also prove useful if you don't want to carry your massager. You can just roll it from one room to another.
Where To Buy Foot Bath Spa Massagers?
I recommend that you look for foot bath spa massagers online, e.g. on Amazon. Amazon has different brands and models available and you can get a good deal if you use their discounts and coupons. You can also read the opinions of other customers in the customer reviews section.
5 Best Foot Baths (Spa) And Massagers Reviews
Best Foot Bath Massager With Heat
ACEVIVI Foot Spa Bath Motorized Massager With Heat
Targets Acupuncture Points
The Acevivi foot spa massages your whole feet – heels, toes, arches and ankles. The automatic motorized roller massager targets acupuncture points in the soles, which are thought to be connected with other organs. This means that massaging the acupuncture points improves the performance of other organs as well, e.g. liver or kidneys.
Multiple Massage Modes
The Acevivi foot spa bath features a variety of massage modes that you can combine or use separately. You can combine the acupressure, shiatsu, heat, oxygen bubbles and frequency conversion that saves energy to help with your pain. The water temperature goes from 95 to 118 degrees Fahrenheit and the heat further enhances therapeutic effect. You can also add red light for a deeper effect.
User-Friendly Control Panel
Each feature is controlled independently so you can adjust the massage to your preferences. They are selected by the press of the buttons and the water temperature is displayed on the LCD. The Acevivi foot spa massager has 3 power settings: 300W, 400W and 500W. The low power is used when you want to maintain a constant temperature, while the high power is used for fast heating.
Safe And Easy To Use
The foot spa bath massager has double overheating protection. It features a drainage tube for simple emptying of the water tank. The capacity of the water tank is 4 litres. The massager is 16.9 inches long, 14.6 inches wide and 12.6 inches high and it weighs 10 pounds. For easy moving, the foot spa massager features 4 wheels and a portable handle. It can fit a men's size up to 14.
Characteristics:
Massages acupuncture points
Multiple massage modes
Adjustable water temperature
Three power setting saves energy
Best Choice Foot Spa Bath Massager
HoMedics Bubble Spa Elite Footbath FB-450H
Massage Your Feet
The HoMedics Bubble Spa Elite Footbath uses water jets to deliver a gentle massage. The water jets gently massage and soothe tired feet. The foot spa bath massager comes with an integrated splash guard so you won't have to worry about splashes on your floor.
Pedicure Center
The HoMedics footbath spa massager works as a pedicure center as well. It has an integrated pumice stone where you can get rid of callous skin and a pedicure brush for cleansing. The massager also features textured raised seagrass surface for an invigorating massage experience.
Warm The Water Quickly
You don't have to wait for the water to heat up. The HoMedics foot bath massager warms the water quickly, in just a few minutes. Once the water reaches the right temperature, it will maintain it during your spa session.
Easy-To-Use Controls
The HoMedics foot spa and massager feature toe-touch controls. This means that you don't have to bend over from a comfortable position but you can use your toes to adjust the temperature and power of the jets. The measures of this foot bath and spa massager are 14.8 by 15.5 by 6.8 inches and you can easily carry it thanks to the tote handle.
Characteristics:
Water jets deliver gentle foot massage
Water heats up quickly
Features pedicure brush and pumice stone
Seagrass massage surface
Toe-touch controls
Best Electric Foot Bath And Massager
Arealer 6-in-1 Function Foot Bath Massager With Automatic Massaging Rollers
Six Massage Modes
The Arealer foot bath massager features six massage modes that can be used simultaneously or separately. You can choose bubble massage, automatic roller massage, foot stone massage, heating, timing and heat preservation. The intensity of the automatic roller massage can be adjusted to three modes.
Intelligent Temperature Control
The water temperature goes from 95 to 118 degrees Fahrenheit. Once you turn on the foot bath massager, the water automatically starts heating up and you can choose the desired temperature. You can set the timer from 10 minutes to 60 minutes.
Experience Bubble Massage
The Arealer foot spa and bath massager delivers bubble massage mode. For an even more relaxing massage, the foot tub has a compartment where you can place the bath salts and other foot bath products. The foot stone rotates and exfoliates the dead skin.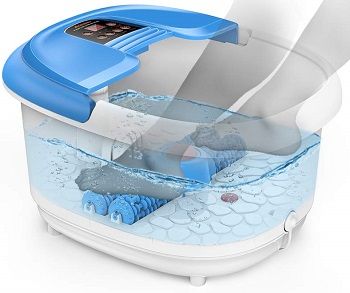 Easy To Clean
The Arealer foot spa bath massager features and external drainage so you can easily discard the water after use. It also comes with a carrying handle for more convenience. The measures of the massager are 10.7 inches in width, 14.65 inches in depth and 17.32 inches in height. The foot spa and bath massager turns off automatically for more safety.
Characteristics:
Six massage modes, from rollers to bubble massage
Adjustable intensity of the roller massage
Timer from 10 to 60 minutes
Best Multifunction Portable Foot Bath And Massager
Belmint Home Foot Spa Bath Massager All-In-1
All-Inclusive Foot Spa Massager
The Belmint foot spa bath massager features multiple modes and features. It comes with two exfoliating loofahs, salt and herb diffuser, two bubble jets, four shiatsu rollers and antibacterial infrared lights. You get a spa experience from the comfort of your own home.
Ease Of Use
The Belmint foot spa bath massager has only one control knob for simplicity. The knob has 3 positions: 1 is used for bubble jets and warmth, 2 for infrared light and warmth and 3 for bubble jets and infrared light. You should fill it with warm water because this foot massager does not heat the water up but only helps preserve the temperature.
Relax And Unwind
The shiatsu roller wheels and bubbles deliver a massage that helps relieve stress and reinvigorate your feet. The infrared light kills germs and leaves your feet feeling fresh. The water reservoir is wide so your feet feel comfortable.
Portable And Lightweight
The Belmint multifunction foot bath and spa massager weighs only 3.5 pounds, which is less than most foot spa massagers weigh. It 12.5 inches wide, 5.5 inches high and 15 inches long. Despite its size, you will have enough room for the feet.
Characteristics:
Multiple massage features
Features one control knob
Antibacterial red light
Space-saving dimensions
Best Home Foot Bath And Massager
MaxKare Foot Spa Bath Massager 6-in-1 For Home Use
Six Massage Functions
The MaxKare foot spa bath massager features oxygen bubbles, automatic massage, timing feature, temperature adjustment, frequency conversion and heat therapy. They are selected by the press of the button and each function is controlled separately.
Adjustable Temperature And Time
The MaxKare foot spa bath massager heats the water from 95 to 118 degrees Fahrenheit. The high power of 500W is used when you want to heat the water quickly and the low power of 400W or 300W preserves the consistent temperature and saves the use of energy for 30%. The time can be adjusted in 10-minute intervals, from 10 to 60 minutes.
Experience Soothing Massage
The bubble massage reduces tension and pain in your feet. Massage rollers stimulate acupressure points in the body and can help you sleep better. For an even more relaxing experience, the foot spa massager features a compartment for spa materials, such as salt and petals. You should put them in the gauze to prevent blockage.
Easy To Clean And Carry
The MaxKare foot spa bath massager features drainage tube for emptying the water tank. The massager can easily be moved around the house because it has four transport wheels. The ergonomic handle helps with carrying the massager. The massager also comes with a bucket lid which accelerates the heating process and prevents the dust from entering the tub when the massager is not used
Characteristics:
Six massage functions, from bubbles to heat
Adjustable heat settings with frequency conversion
Timer from 10 to 60 minutes
User-friendly design
Conclusion: Which Foot Bath Spa Massager To Buy?
I think that the best foot bath spa massagers from the list are Acevivi Foot Spa Bath Massager with Heat and HoMedics Bubble Spa Elite Footbath. The Acevivi foot spa bath massager features a variety of massage modes and adjustable water temperature. The HoMedics spa footbath massager delivers gentle bubble massage and it features a pedicure center for smooth feet.
If you are interested in other foot massagers, I think youshould check out my best foot massagers post. Check out my post about the best heated foot massagers to see their advantages and specifications. In case you are on a budget, I recommend reading aboutthe best cheap foot massagers.