Best Invospa Foot Massager For Sale In 2022 Reviews
You experience tension in your feet and you have you been longing for a quality foot massage, but can't foresee the expenses of a salon?
Or you've just been eyeing one of the massagers that are out of your price range?
Check out this Shiatsu Foot Massager by InvoSpa.
About InvoSpa Company
InvoSpa is a company that specializes in massagers. Their headquarters are placed in Panama, where they conduct business around the globe. Their motto is to provide you with innovative pleasure and comfort you can take anywhere with you. They communicate well with their customers and are easily reachable by Facebook, e-mail or their websites.
What Makes Their Service So Great?
When ordering a product from InvoSpa, you can request a cancellation within 24 hours with a 100% money-back guarantee. Also, their support team will take care of your return or a refund if you contact them. Their products are available online on their webshop and Amazon. To provide the best quality service InvoSpa includes a Risk-free 30-day Money-Back Guarantee on all InvoSpa Products.
Not Only Foot Massagers
InvoSpa brand produces a wide range of massage products. Their offer of personal massagers consist of Neck Massagers, Handheld Massagers, Seat Massager Cushions and finally InvoSpa Foot Massagers
Shiatsu Foot Massager By Invospa
This two-chamber Invospa Shiatsu Foot Massager with Heat combines all the best from the foot massagers in this price range. It falls into the class of Shiatsu Foot Massagers with Heat and works well for a wide range of customers. It targets symptoms such as tense and sore feet and relieves the accumulated stress.
How Does This InvoSpa Foot Massager Work?
InvoSpa Shiatsu Foot Massager works with rolling and pressing, shiatsu kneading and air compression bags. There are multiple nodes that massage the whole surface of your soles, while air compression bags relieve the pressure from your feet to maximize the relaxing effect of the massage. This massager integrated an extra property: rolling and pressing – which is focused on our toes. There is also an optional infrared heating feature.
3 Different Air Compression Intensities
This InvoSpa Shiatsu Foot Massager allows you to choose from 3 different air compression intensities. Also, the heating option can be turned on and off based on your preference. Since this is infrared-based heating, it might take several sessions for it to work properly. An interesting option this massager offers is a bi-directional massaging, which basically means you can change the direction of kneading by one click of a button. There are also two different massage modes to choose from.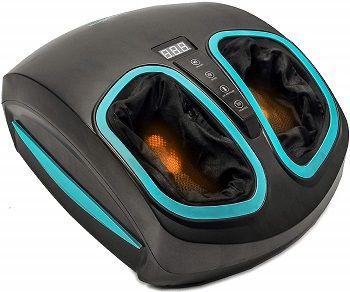 How Does It Feel To Use it?
InvoSpa took special care to simplify the user experience by putting the command buttons on the top with the display.  From there you can operate the massager with 4 simple buttons -heating, air Pressure, mode and on/off button. InvoSpa ShiatsuFoot Massager comes with the washable feet pockets so the process of cleaning the massager seems really effortless, plus – you'll feel more comfortable sharing. The manufacturer also thought about the recommended time limit of a foot massage, so this unit comes with an optional auto timer set to 15 minutes.
Works Well As A Medical Assistance Massager
InvoSpa Foot Massager was designed to help you with the symptoms of swelling and pain. When having problems with cold feet and cramps – its heating option works well to kickstart your circulation. Last but not least -it is recommended for plantar fasciitis as well as chronic neuropathy patients.
Characteristics:
Air pressure evenly distributed to all parts of your feet
Shiatsu massage option
Heating option
Added Rolling and Pressing option
Washable feet pockets
Comes with a 2-meter cord
Conclusion: Shiatsu Foot Massager by InvoSpa
InvoSpa Foot Massager while rich in options, keeps an affordable price. There are a variety of options to choose from when using this massager to always get what you're looking for in a massage. I'd highly recommend InvoSpa to get the best value for your money.
If you are still in search of a leg massager with heat or an air compression leg massager check out an article about the search of the best-rated foot massager. To find another foot warmer and massager within your price range check out some other foot massagers on sale.