Best 4 Human Touch Foot Massagers You Can Buy In 2022 Reviews
Long working hours can really take to toll on our health and well being. Multiplying that with some years results in neuropathy, plantar fasciitis and circulation issues. Luckily there is a way to prevent and stop the progression of the symptoms. Check out what Human Touch foot massagers put on the table.
Experienced Experts
Human Touch is a US company with more than 40 years of experience in the field of massager production. They manufacture the whole spectrum of high – performance massage chairs, ergonomic zero gravity recliners, and other massage devices. For designing the perfect device they utilize the top engineering experts and medical professionals. Human Touch uses athletes to test their products.
Brand That Collaborates With Science
They have won numerous Design Journal Awards for excellence in design that is a combination of fashion, performance, and form. To achieve all that Human Touch invested millions of dollars in research, which resulted in many patented systems that they integrate into their products.
Reflex Line Of Massager By Human Touch
Human Touch Reflex5s Foot and Calf Vibration Massager
CirQlation Technology
Human Touch applied reflexology principles while designing this foot massager. The targeted effect of this Human touch foot and calf massager is improved circulation. For that purpose, Human Touch Reflex5s was engineered with patented CirQlation technology that works by forcing the blood flow back to the heart to deliver fresh nutrients throughout the body.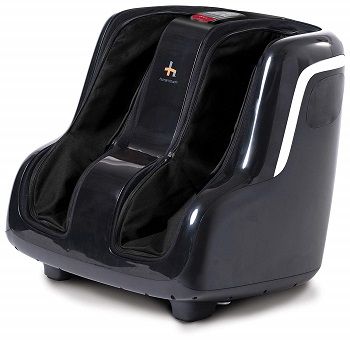 2 Speeds, 2 Programs & 2 Massage Motions
Reflex5s is equipped with underfoot automatic rollers. The strength by which they deliver the massage is adjustable with two intensity settings that customize the massage to the needs of the user. Options with HT reflex are controlled via the onboard console that offers 2 auto massage programs, 2 speeds, and 2 massage motions.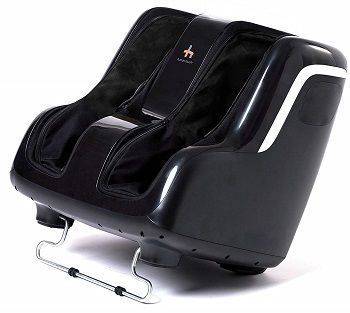 User Experience With Human Touch Foot And Calf Massager
The important notice from a technical standpoint is that this massager allows you to tilt it, and find a suitable angle. The manufacturer made sure that the Human touch reflex massagers can be easily transported with handles on the side of the massager. To ensure the maintenance of hygiene – removable and washable sleeve inserts were added. In that way, you can also share it without any inconvenience.
Characteristics:
Measures 19 x 15 x 18 inches
Weights 20 pounds
Comes with adjustable tilt
Equipped with side handles for transport
Human Touch Reflex4 Foot And Calf Massager -Full Coverage Backed By Science
This foot and calf massager is also made according to Figure – 8 and CirQlationTechnology mentioned above, to achieve the results you would when visiting highly trained massage therapists. The trick is to use high-intensity massage that surrounds completely the feet and the calves and massages in a circulatory fashin order to jumpstart the blood flow in the body.
Human Touch Benefits
The benefits of using Human touch reflex 4 are many. It mainly affects the sore feet, ankles, and calves – and the quickest response you will get when using this massager is exactly that – relief of the symptoms such as pain, tension, and swelling. It is recommended for all struggling with plantar fasciitis, circulatory problems, and fibromyalgia.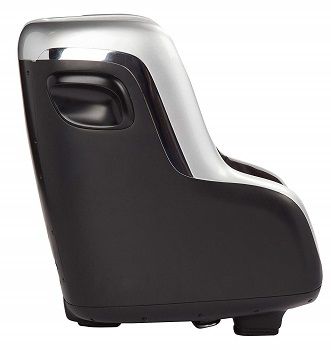 Tailored To The User
The programs available with Reflex4 massager are 4 auto – massage wellness programs: shiatsu 1, shiatsu 2, relax and refresh. Relfex4s also comes with adjustable tilt and the removable and washable cloths. Human touch keeps the side handles with this model, which is necessary since it weighs almost 27 pounds.
Characteristics:
Measures 18 x 19 x 18 inches
Weighs 26,4 pounds
Accommodates feet up to size 14 men
Calf massage rolls up to 13 inches
Human Touch iJOY Foot And Calf Massager
Reflexology For The Whole Body Effect
iJoy by Human Touch follows the principles of CirQuation technology in which massage is wave-like and circular to push the blood from the feet to the heart. It is also made respecting the reflexology principles that position the massage nodes to specifically target the key regions of the feet to impact and relax the whole body.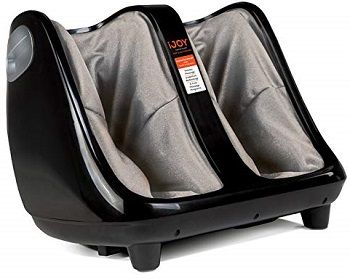 Loyal To The Successful Features
2 auto massage options are available with Human Touch iJoy foot & calf massager– which is a recognizable manufacturer signature. The new property of the iJoy foot massager is the extended height that is 15 inches – along with a calf width of 4,5 inches it provides the optimal massage experience to all body types.
Playing The Esthetics Card
iJoy foot and calf massager stands out from the other Human Touch massagers for its elegant design. This is definitely the most appealing massager Human Touch has produced so far. The light silver sleeves very elegantly contrast the black case, allowing you to fit it in any interior – home or office.
Characteristics:
Measure 20 x 16.3 x 16.5 inches
Weighs 14 pounds
Comes with removable and washable sleeves
Easily transported using the side handles
Human Touch Reflex SOL Foot and Calf Shiatsu Massager
Something Already Known
I'm sure you can already picture the standard Human Touch massager: CirQlation technology, massaging nodes positions according to the reflexology principals, auto massage modes, 2 speeds setting and adjustable tilt. But as shown above, each one of these massagers has its own personality. Reflex SOL foot and calf massager could surprise you.
Spiced With Something New
Human Touch Reflex SOL is the only Human Touch massager with heat. Since the benefits of heated massage are well known, it is strange how they didn't design it sooner. Higher temperatures add to the effect of the pressured massage and increase the metabolism of the cells and the exchange of oxygen and toxins.  It takes around 3 to 5 minutes to reach the set temperature.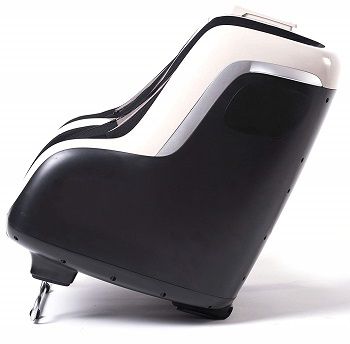 Vibration Setting As A Cherry On Top
On top of that this Human Touch foot massager has an added vibration option which unfortunately cannot be adjusted. By adding the vibration Human Touch closed the circle of the complete Shiatsu foot massager. For SOL foot and calf massager, it can be said to be a properly customizable foot massager – so there are 2-speed options, heat and vibration settings – all you need for a wholesome massage experience.
Characteristics:
Weighs 25 pounds
Measures 19 x 18 x 18 inches
Tiltable base
Removable and washable sleeves
Warm – air technology
User Manuals
The instruction manuals for the reviewed massagers are unfortunately not available online. There are of great importance to indicate the proper way of using the device and possibly to troubleshoot the problems you might encounter while using the massager. For that reason, it is wise to keep the manual you will receive within the package.
Conclusion – Heating & Vibration
I must conclude that the best massager from Human Touch must be the later one. With the heating option, there is much to gain compared to the classical massage. For that reason the choice is clear and it is the Human Touch Reflex SOL Foot and Calf Shiatsu Massager.
Since I mentioned the importance of considering a heated foot massager while buying a new foot massage device, here are some of the best-rated foot massager which mostly have a heating option. Feel free to also explore the world of the shiatsu foot massager with heat and leg massagers for blood circulation if you often deal with cramping or cold and swollen feet.