Best 5 Foot Spa & Massager For Large Feet In 2022 Reviews
Do you suffer from sore feet but think that foot massagers are too small for your feet?
Then you should read my article!
You will find the reviews and specifications of the best foot spa and massagers for large feet. You can then easily compare their characteristics and choose the right massager to alleviate your pain.
What To Consider Before Buying A Foot Spa And Massager
Why Buy A Foot Spa Or Massager?
Foot massagers improve circulation, stimulate muscles and relieve pain. If your feet suffer, only 20 minutes of massage a day can help with your pain. They even help with plantar fasciitis, pain in the heel area. If you are worried that your feet are too big for massagers, there are massagers made specifically for large feet.
Foot Spa Or Foot Massager?
The main difference between the foot spa and foot massager is that a foot spa uses water, while the massager does not. Foot spas require water to work and they use many massaging techniques. Foot massagers also have a variety of massage methods but are easier to use because you do not have to worry about pouring water in and out of the water tank.
Which Massage Settings Do I Need?
Foot massagers nowadays have a variety of massage methods, from massage rollers, air compression, waterfalls, water waves, shiatsu, etc. You can choose the method you want to use, adjust the speed, intensity or time. For cold winter days, you might want your foot massager to use heat to warm up your feet.
Ease Of Use
Many foot massagers have control panels where you adjust the desired setting by the press of the button. Some also come with an LCD so you always know which setting is on. Foot massagers have the control panel mounted to the device, while some come with additional remote control. The remote control can prove useful if you do not want to bend while changing and adjusting the settings.
Where To Buy Foot Spa And Massager For Large Feet?
Foot spas and massagers for large feet can be difficult to find in stores so you should look online. I would recommend Amazon because of the many advantages they offer, such as their discounts and coupons. They have different brands and price ranges available and compare similar products for you to help you with your decision.
Best 5 Foot And Spa Massager For Large Feet Reviews
Best Spa Massager For Large Feet
Kendal All In One Deep Foot & Leg Spa Bath Massager
A Variety Of Features
Kendal feet massager is rich in features. It combines the motorized rolling massage, heating therapy, oxygen bubbles massage, waterfall and water wave massage. The massager contains pumice stone, herbal diffuser, waterfall function, rolling casters and the drainage filter with a tube. The settings and temperatures are controlled on the digital control panel with an LED display. You also get a remote control for more convenience.
Large And Deep Tank
A deep tank on this foot massager means that it works for calves as well. The waterfall function sprays the water and causes small waves that massage feet and calves. The temperature od the water can be adjusted from 68 to 118.4 degrees Fahrenheit. The temperature indicator is blue when the water is below 107 degrees and red when it is over 107 degrees Fahrenheit.
Safe To Use
The Kendal feet spa massager has electric leakage protection. It uses a PTC heating semiconductor that heats fast and preserves constant temperature. To prevent from overheating, the massager has double insulation. The body is made from high-quality plastic that is resistant to high temperatures. The whole device is ETL certified, not only its parts.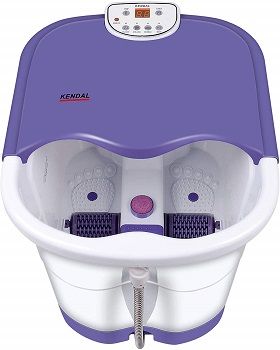 Requires More Space
This foot massager is quite large and heavy. It is big enough for both men and women and fits a men's size 16 and even larger. This extra-large foot spa massager is 18.5 inches long, 16 inches wide and 19 inches high. It weighs 14 pounds but comes with a handle so you can move it easily.
Characteristics:
Different massage settings and features
Deep tank for massaging calves and feet
Adjustable water temperature
Digital control panel with LED and remote control
20- to 60-minute timer
Best Air Compression Foot Massager For Large Feet
RENPHO Shiatsu Foot Massager Machine
A Range Of Massaging Methods
Renpho foot massager comes with a variety of massage methods to help you alleviate pain, reduce exhaustion, improve blood circulation and help with better sleep. The foot massager has a rotation ball, rolling stick, heating and compression that is used for deep-kneading Shiatsu massage that is the closest to the massage you would get from human hands.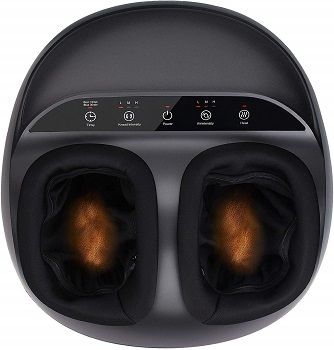 Adjustable Settings
With Renpho foot massager, you can choose 3 kneading intensities and 3 air pressure levels for a personalized massage. The heating function that helps with knots in feet can also be adjusted and controlled. The foot massager also features a timer. It shuts off after 15 or 30 minutes of massaging.
Easy To Use And Clean
The touch buttons for choosing settings are easily controlled by feet. This means that you will not have to bend to adjust the setting and you do not need a remote control. The Renpho foot massager has the detachable cloth covers where you put the feet. It can be removed by pulling the zipper and washed in water.
Appealing Design Suitable For Large Feet
The Renpho foot massager comes in elegant black color. It is 16.8 inches long, 15.3 inches wide and 9.8 inches high and it weighs 8.5 pounds. The massaging space can fit the men's size 12, but the costumers said that it works well even with the size 14.
Characteristics:
A range of massage techniques, from shiatsu to heating
Adjustable massaging intensity
15- and 30-minute timer
Best Foot Massager For Plantar Fasciitis For Large Feet
Nekteck Deep Kneading Foot Massager Machine For Plantar Fasciitis
Deep Kneading Massage
The Neckteck foot massager has 6 massage heads and 18 rotating massager nodes. This offers a deep massage at home. The muscles relax, the blood circulation improves and it helps with plantar fasciitis. The heating function alleviates pain and reduces pain and it can be turned off and on. The heat is mild for safety purposes but the sensation improves within 10 minutes of massaging.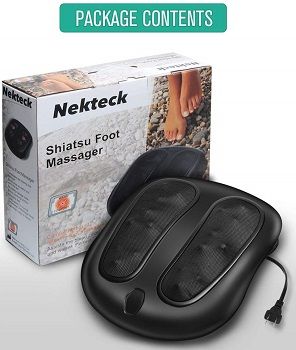 Suitable For Different Heights And Foot Sizes
This foot massager allows you to adjust the height up to three levels. This creates an even more comfortable massaging experience. The customers replied that this massager can comfortably fit the men size 14.
Easy To Use
The power button can be turned on by touching it with your feet. You do not need to bend. This massager has the on/off switch that is turned on on the side of the device. The massager features cord storage and a handle for more convenience.
Smaller Dimensions
This large feet massager by Neckteck is not as bulky as the previous models. It is 15.8 inches long, 14.2 inches wide and 3.2 inches tall. It weighs 7.63 pounds but can be easily carried thanks to the carrying handle.
Characteristics:
Provides a deep kneading massage
Heat can be turned on and off
Height adjusts to three levels
Features cord storage and carrying handle
Best Heated Foot Massager For Large Feet
Miko Shiatsu Foot Massager With Switchable Heat
Different Massage Modes
Miko Shiatsu foot massager has the deep kneading, shiatsu rolling and heat functions. You can also choose between 5 air pressure settings. You put your feet into two independent foot chambers, choose the desired settings and wait for your pain to reduce. The timer can be set for 15 minutes, after which the massager automatically turns off.
User-Friendly Controls
You can adjust the 5 different massage pressure settings by pressing the plus/minus buttons on the massager or using the remote control. Heating and kneading intensity can also be adjusted for a better massage experience. You get two remote controls in case you lose one.
Hygienic And Easy To Clean
The foot liners in the foot chambers can be removed and washed in the washing machine. This way your foot massager can always be fresh and clean. Many users said that the size 14 comfortably fits into the chambers, but it might be too tight for bigger sizes.
Appealing Futuristic Design
The Miko massager for large feet was designed to match with your home, rather than overcrowd it. The foot massager is 17.5 inches wide, 17.5 inches long and 9.7 inches high. It weighs 13.1 pounds and comes in grey color.
Characteristics:
Deep kneading, shiatsu and heat
Adjustable massage pressure and heat
Two remote controls included
Washable foot liners
Best Shiatsu Foot Massager For Large Feet
Belmint Shiatsu Foot Massager Machine With Heat
Experience Shiatsu Massage At Home
Belmint Shiatsu foot massager has 6 massage heads and deep kneading nodes that help with foot pain. The shiatsu massage that you get from this device is similar to the one you would experience with human hands. The massager alleviates pain and helps with plantar fasciitis.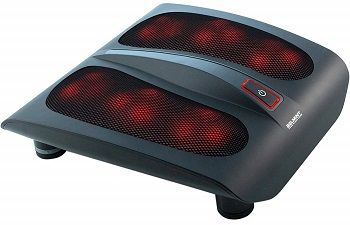 Heat Your Feet
This foot massager has the heating option that you can turn on or off. The heat improves blood circulation and helps warm your feet. To switch the massager on, you press the button once and to turn it off, you press it twice. There is no need to bend because you can do it with your toe.
Adjustable Height Levels
The Belmint foot massager can be adjusted at a perfect angle for a better massage. The massager turns off automatically after 20 minutes for your safety. Customers said that it fits size 14 perfectly, but it might be too big for smaller women's sizes.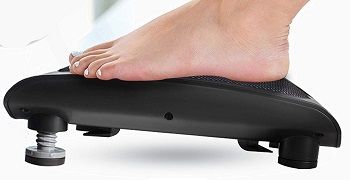 Portable And Lightweight
The Belmint large feet massager is 13.5 inches wide, 14.2 inches long and 5 inches tall. It weighs 7.9 pounds. You can easily store it in your home and carry it whenever you need it. Due to its size, you can even use it in your office.
Characteristics:
6 massage heads and deep kneading nodes
Heat can be turned on and off
Compact and space-saving dimensions
Conclusion: Which Spa And Foot Massager For Large Feet To Buy?
I think that the best foot spa massager for large feet is the Kendal Foot and Leg spa. The second best must be the Miko Shiatsu Foot Massager. The Kendal spa is deep enough so it massages not only your feet but calves as well. It is designed for extra-large feet, size 16 or even larger. Miko foot massager is great for improving circulation and warming your feet and you can adjust the massage pressure.
If you would like to find out more about foot massagers, you should check out the article about the best-rated foot massagers. If you want some extra pampering, then check out the best foot bath massagers. In case your feet are constantly cold, read about the best leg massagers for circulation.