Best 2 Brookstone Foot, Leg & Calf Massagers In 2022 Reviews
Simple massagers with straightforward options are recommended for anyone wanting to buy their first-foot massager. Many companies try to sell expensive devices with many options that the regular user just doesn't need. Here are 2 Brookstone Foot Massagers that are a depiction of a perfect massager for beginners.
Brookstone Company
Brookstone is a brand founded in Merrimack, New Hampshire. They are a multinational company that produces a variety of home products. They can equip your kitchen, prepare you for traveling or deliver the health & wellbeing products to your home. Their products are available at Amazon or at their website.
Brookstone As A Perfect Gift For Special Occasions
Since they produce the products we use every day, Brookstone also offers a gift card so you can make your loved ones happy with one of their designs. Brookstone offers the 30 money-back guarantees to its products. A great service they use is a possibility to track your order after it leaves the Brookstone warehouse.
Best 2 Brookstone Foot Massager Reviews
Brookstone Dynamic Squeeze Foot Massager
Air Compression With Dynamic Squeeze Foot Massager
The first massager by Brookstone has two chambers for the feet. This type of massager allows the air compression feature to be plausible. When using the air compression the blood leaves the bottom parts of the body and returns to the heart. Since many health issues regarding feet come from the accumulation of fluids, this type of massage really helps swollen and tense feet.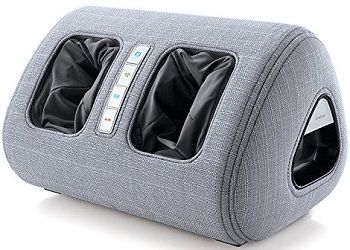 Reflexology With Brookstone Foot Massagers
The massage nodes placed at the bottom of the massager are positioned to target special reflexology points of the soles. Reflexology is a principle that applies massage to the feet in order to obtain beneficial results throughout the whole body. Another feature by Brookstone Dynamic Squeeze is Vibration, that is there to enhance to effect of the air compression and kneading massage.
User Experience
There are 2 vibration intensities available along with 3 automatic massage modes to customize the massage experience to your liking. Brookstone Dynamic Squeeze foot massager has a lovely fashionable design that comes in gray color. It is light and easily transported by using the side handles. To use it simply plug it in and press the on / off button. The control panel will illuminate the chosen options.
Characteristics:
Weighs 15.1 pounds
3 automatic modes
2 vibration intensities
Air compression feature
Brookstone Shiatsu Foot Massager Review
F2 Nap Shiatsu Foot Massager
The second Brookstone foot massager that I will review is Brookstone Shiatsu foot massager. This unit is a platform based unit, but not just a regular one. It has a cover that surrounds your feet for that extra comfort. The cover is removable and washable for your comfort.
Brookstone Foot Massager With Heat
From technical standpoint this Shiatsu foot massager has 4 sets of deep kneading nodes that are placed along the platform. Also, there is a heating function that is optional. Unlike the previously reviewed Brookstone foot massager, this one is not equipped with the vibration function. This device comes with a remote, by which you can modify the options while sitting back and enjoying the massage.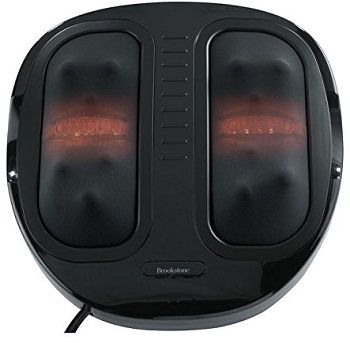 Brookstone Foot Massager Benefits
Brookstone claims this massager will help you to alleviate muscle pain and speed up recovery. Also, it will improve circulation and promote relaxation and better sleep. While using this Shiatsu massager you can reduce the heart rate and increase flexibility of the joints. It is perfect for people with overworked and tired feet.
Characteristics:
Measures 14.5 x 4.1 x 12.9 inches
Weighs 5 pounds
Heating feature
Operable via remote
Conclusion – Which One Brookstone Foot, Leg & Calf Massager To Choose?
All in all, both crossed the threshold to becoming a quality massager. The options will satisfy the occasional and new users. Still, there is a slight difference between the two, and for that reason I've decided to recommend the later one. Why? Well, Brookstone Shiatsu Foot Massager has an added heating option which I find very important to the whole massage experience. It is also lighter and has a washable cloth included.
If you still haven't made up your mind about which foot massage device to purchase, I recommend you to take a look at some compression foot massagers and heated foot massagers. To specifically target some common medical conditions there are also foot massager for plantar fasciitis and foot massager for neuropathy.