Best 2 Pure Wave Foot Massagers For Sale In 2022 Reviews
There are many foot massagers that target medical issues like plantar fasciitis, but little of them are like Pure Wave by Pado for plantar fasciitis. To really see why – I welcome you to this Pure Wave foot massager review.
Pure Wave Brand Information And Their Offer
Pure Wave by Pado Plantar Fasciitis –Line Designed For Professional And Home Use
Pure Wave is a line of professional massagers that is considered to be one of the highest-rated percussion massagers. Pure Wave products are focused on fibromyalgia caused by a variety of diseases. Scroll on to check out this Pure Wave Foot Massager reviews.
A Brand With Reputation
Pado Company creates technologies to target wellbeing. This USA brand bases its products on modern design and high-quality materials. Pado headquarters are placed in California. Their support team is available as an on-call service. If you live in the USA or Canada you can count on free shipping and a 30-day money-back guarantee.
Two Pure Wave Leg Massagers To Please All
Pure Wave by Pado are handheld massagers that target relieve pain, poor circulation, and numbness in your whole body. The massagers were engineered to powerfully massage deep tissues but also offer micro-vibration massage. In that way, you can focus your massage from big muscles to small joints. This line works for a wide range of patients, the ones suffering from plantar fasciitis, neuropathy or any type of fibromyalgia, including the sports injuries and recovery.
PureWave CM-07 – A Game Changer
Unique and efficient -the first reviewed Pure Wave foot massager is officially patented by Pado company.
Light And Cordless
PureWave CM-07 is a micro vibrating massager that pulses 10,000 times per minute. This lightweight cordless massager is equipped with a percussion head that deeply massages the muscles but is also gentle to your joints by lowering the intensity. PureWave CM-07 consists of two heads, one that performs the percussion and the other that vibrates.

Built It Up To Your Liking
The massager comes with different add-ons that let you customize the massage to your preference. PureWave will equip you with six-head sticks, air-cushion stick, point stick, facial massage stick, scalp massage stick, and body massage oil stick. There is a possibility to add multiple sticks at the same time which really expands the possibilities to personalize the experience.
Traveling Without Pain
PureWave CM-07 is light and easily packed for travel. It promises to relive your painful knots and to improve your muscle recovery and impaired circulation. It can also be used on joints such as jaw or fist to soother your inflammation.
Characteristics:
1,75 pounds
16,5 x 2,75x 4 inch
7,2V Lithium-ion 2200mA battery
One hour charging time that lasts a week is used 20 to 30 minutes per day
6 head sticks
Pado PureWave Massager Plantar Fasciitis CM-05
The next model I want to show you is a cheaper version of its cousin CM-07. But, it still offers enough properties to keep you satisfied and save a few dollars.
Plantar Fasciitis Pure Wave – What Does It Offer?
Another portable cordless pure wave leg massager. This one comes with deep tissue, acupressure and Swedish type of massage. There is a possibility to adjust the speed as well as the firmness of the massage. The massager is not limited to just leg and feet – you can use it to massage your whole body. Pado PureWave CM-05 has an integrated air-cushion stick for more sensitive body parts such as joints.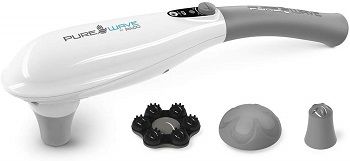 Powerful Motor And Elegant Design
PureWave CM-05 is equipped with a powerful percussion motor that delivers up to 3700 RPM. Durable Li-ion battery makes sure to enjoy a massage up to 180 minutes just with a single charge. Time to fully charge the massager is around one hour. Pure Wave foot massager is ergonomically designed to fit your grip and feel very natural.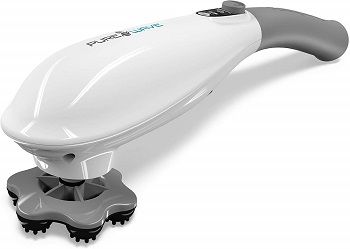 Pure Wave Massager For Plantar Fasciitis– But Much More
Pure Wave plantar fasciitis massage is one of the medical uses of this massager. But moreover, the Pado foot massager will deal with any pain and discomfort in your muscles and joints. It is widely used by professionals to treat fibromuscular diseases, but also in sports medicine to speed up recovery and prevent spasms, knots, and stiffness.
Characteristics:
3700 RPM
3 massage sticks
Charge it for one hour to use it for two
1,65 pounds
14,75 x 2,75 x 4 inch
There are also two colors to choose-black and white
Conclusion- Plantar Fasciitis Pure Wave
All in all to conclude – both massagers are new high points to the massager engineering field. Since they are widely used and recommended by masseurs and podiatrists they are of great use in therapy and prevention. The Pure Wave CM-05 seems to be a commercially more successful one since it does offer most of the properties of its more expensive relative. I'd definitely recommend the CM-05 for non-professional use.
If you are perhaps still not convinced with those two, check out some other handheld foot massagers and medical foot massagers. There are a lot of foot massage devices available on the market, especially if you're looking for a foot massager for sale. Now is the right moment to find the best foot massager for you.