Best 2 Nekteck Foot Massager For Sale In 2022 Reviews & Tips
You've heard about Neckteck while browsing for a foot massager? What makes it different from all the other brands and can it really help you relieve the pain and discomfort? Here is everything you need to know about Neckteck and its products and business.
About Nekteck
Nekteck is a company that provides a wide range of products keeping in mind high-quality standards. List of Nekteck products ranges from mobile and car accessories to mentioned massagers. They are founded in California, USA and they have been in business since 2012.
What About Their Products?
Nekteck bases its business on the quality and durability of its products. They comply with international quality standards and their products are certified from related companies and organizations. Design is also one of their strong points since device aesthetics and ergonomics are specially taken into consideration while launching a product.
Attitude Towards Their Customers
Nekteck makes no compromises in order to deliver the best product possible. Just by contacting the customer service you can return a product if it's malfunctioning or just not up to your expectations. There should be no problem with receiving another unit.
Nekteck Foot Massagers
The Necktek foot massagers are effective and practical massagers. Designed to relax your muscles and soothe you after a long day without the inconvenience and expenses coming along with a visit to the salon. There are two kinds available on the market: Nekteck Foot Massager Deep Kneading Shiatsu Therapy and Nekteck Shiatsu Foot Massager Machine.
Nekteck Top 2 Massagers Available In The Market
Nekteck Foot Massager Deep Kneading Shiatsu Therapy Massage
What Does It Offer?
This Neckteck massager is designed to use 18 massage nodes to relieve the pain and tension from the muscles of your soles. The Neckteck engineered this foot massager to use 3 massage heads for each of your feet while adding extra three nodes to each massage head, which comes to 9 nodes massaging your each foot at the same time.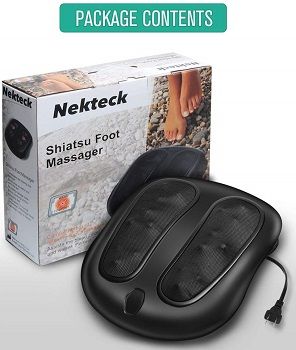 Adjust It To Your Needs
This model has adaptable height and can be adjusted to your preference. There is also a possibility to adjust the front of the rear height which will give you the possibility to increase or decrease the unit's inclination, making it more comfortable for your feet. Neckteck massager also comes with an optional heating function which adds to the real beauty salon massage feeling while improving your circulation at the same time.
Is This Massager Comfortable?
This model's weight is its an upside, and it will allow you to move it around the house easily. Moreover, its compact and minimalistic design makes it barely noticeable in your surroundings. The simple design of the unit comes and in hand with the user experience, so you'll be able to turn the unit on and off by just using your feet! Also, don't worry about the noise, it is perfectly quiet. Unfortunately, this massager may not be suitable for people with high arches and doesn't offer the option to adjust the intensity of the massage.
Will It Help Me?
If you're looking to relieve pain or just relax quickly and easily this Neckteck massager might be the right solution for you. Don't forget the upsides of the heating option which along with the massage gives your feet a special treatment if you're struggling with ulcers and edema.
Characteristics:
Power Supply: 120V/50~60Hz
Power Consumption: 48W
Dimensions: 40.5 x 36.5 x 12 cm
Weight: 3.3 kg
Heating Option
Nekteck Foot Massager Kneading Shiatsu Therapy Plantar Massage
Nekteck Shiatsu Foot Massager Machine comes as a newer version of the previously described massager.
Technical Properties And Options
Nekteck Shiatsu Foot Massager Machine takes the massage experience down a different road. Its Full-coverage 360 ° Deep Kneading Massage Experience heats and massages your whole foot including your ankles. This massager gets the job done by different points of action. It presses your ankles and heel to stabilize your feet and relieve the pressure. It scrapes and kneads your arches, rolls your feet and optionally heats them as well.
3 Different Air Pressure Intensities
This unit offers a double air compression massage that helps relieve tension and stabilizes feet at the same time. You can choose 3 different air pressure intensities by pressing the intensity button. The mode button allows you to choose different 3 types of massages.  The first one is called Refresh. The mode is characterized by vibration, airbag and rolling balls all being turned on. The second one,  Relax mode, inactivates the rolling balls while turning the airbags and vibration on. The last mode is Health care –airbags are turned off while rolling balls and vibration work continuously. This model comes with the Vibrating button which also offers 3 different modes.
How About The Design And Maintenance?
This Nekteck Foot Massager Machine is a fairly simple massager to use. Besides the power button, the device's display offers you the heating, vibrating, intensity, mode button to choose from. By combining the options you can personalize the massage experience to your liking. Most importantly, it contains a removable cover that can be cleaned, which spares you the inconvenience that comes along with sharing your massager. The only noticeable problem with this massager might be the shoe size limit – it works up to size 12.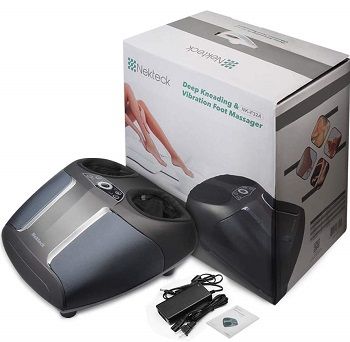 Does It Make A Difference?
This model offers improved blood circulation, helps relieve pain from plantar fasciitis, chronic pain, muscle tension, and neuropathy. The producer claims to reduce fatigue and stress after a long day of standing up and walking around. It can also help improve your sleep quality by relaxing the feet muscles that cause cramps during the night.
Characteristics:
Power Supply: 120V/50~60Hz
Product weight: 7.8 kg
Heating and Air Compression Option
Conclusion: Which Necteck Foor Massager To Choose?
Nekteck Shiatsu Foot Massager described in the article seems a well-designed product that offers great value for money. SinceNekteck Shiatsu Foot Massager Machine offers adjustable settings making your massage an individualized experience with plenty of options to choose from. All in all, taking into consideration all the potential benefits and lovely design of the product it really seems worth the investment.Neckteck Shiatsu Foot Massager also helps with some medical issues since it is a foot massager for plantar fasciitis and the leg massager for circulation.
If your mind is still not made up this shiatsu foot massager, check out our best foot massager guide to help you out choose the perfect massager for you.