Best 6 Fit King Foot & Leg Massagers To Buy In 2022 Reviews
Looking for a leg or feet massager but you seem to be overwhelmed by the swarming market? Or you have already heard about FitKing and their amazing foot massagers. Either way, you've come to the right place. Check out my FitKing leg air massager review.
Quality First, Service First
FitKing is a young company founded in 2017 in Shenzhen, China. Their main business commerce is focused on American and European markets. FitKing company culture is based on gratitude, innovation, and growth in order to intelligently combine health and technology.
Team Of Experts You Can Rely On
FitKing's team is comprised of designers, engineers and sales experts that make delivering smart healthcare products to your home possible. Their products are available on Amazon with a 24-month warranty. Also, FitKing is easily reachable via its customer service available 365 days a year. They promise to get back to you within 24 hours after contacting them.
Quantity And Quality
There are little companies that develop so many quality medical products as FitKing does. FitKing exclusively builds its business on manufacturing massagers. They offer feet, arm and leg massagers that comply with the newest tech available.
FitKing Benefits
All of the FitKing massagers are developed to relieve stress and pain in your feet, back, and legs. Massagers strategically target the points and areas in the body to ensure the benefits. The FitKing massagers can also be helpful with the symptoms of plantar fasciitis, neuropathy or circulatory diseases.
Best 6 FitKing Leg Massagers
Leg & Foot Air Massager FT-009A
2 Airbags Concept
First leg and foot massager by FitKing reviewed is the FT-009A. The whole concept behind this FitKing leg massager is 2 airbags for each leg that inflate and by that stimulate the massage. That is being done in order to improve circulation and decrease the pain and discomfort in legs and feet.
2 Modes, 3 Intensity Levels
This unit is equipped with the remote that allows the user to choose between 2 modes and 3 intensity levels. First mode is a Sequence Mode that alternately inflates and deflates the airbags from bottom to top. The second one – Whole Mode just does it in a circular way.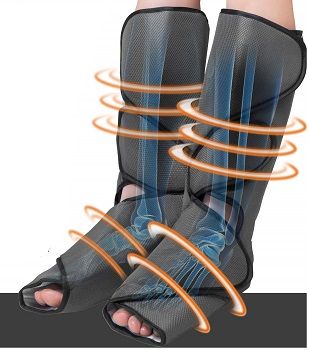 Extendable Foot Wraps
This FitKing Air Massager has a property to extend and therefore provide the different intensity of massage. In the same time, it accommodates different calf size – maximum diameter can reach up to 28.5 inches with two size extensions included. This device comes with 24 warranty for quality-related issues.
Characteristics:
2 massage modes, 3 intensities, and 10 different massage techniques
Auto timer set to 20 minutes
For calves up to 28.5 inches
Comes with storage bag
This model comes also in white color
Leg Air Massager with Heat FT-017A
Added Heating Option
This FitKing Foot Massager was made to completely focus on the calves. It also comes with 2 airbags that sequentially compress the legs, but unlike its FT-009A cousin, it offers a heating property, which works great for warming up the legs, and can relieve swelling and edema due to circulation issues.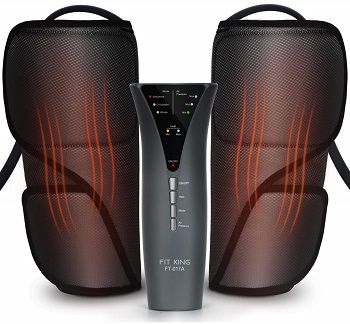 Customized To Your Liking
Fit King leg air massager for foot and calf has an additional intensity mode compared to the previously reviewed leg massager. FitKing Leg Massager has added an extra mode compared to the FT-009A massager called – Circulation Mode. A nice touch from FitKing was also adding 2 levels of heating option, so you can really customize the experience.
Petit And Washable
With the pair of washable covers, you maintain the proper hygiene of the product and happily share it with others. Also, since it is rather small, you can pack it and bring it with you – it will certainly fit into your luggage. Velcros also allows you to adjust the massager to any user, therefore you can use one for the whole family
Characteristics:
Weights 3,1 pounds
3 intensity levels and 3 modes available
Washable cloth included
24-month warranty
Leg & Foot Massager with Knee Heat FT-011A
3 Modes, 10 Massage Techniques
FT-011A kept all the upgrades (3 modes, 3 intensity levels) and expanded to heat your knees. 2 x 2 big airbags provide the optimal coverage for the optimal massage experience. Along with the 3 massage modes, there are 10 massage techniques available with this Leg & Foot Massager.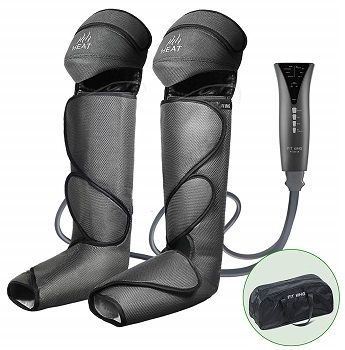 For All Struggling With Knee Pain
The knee heating is an optional feature of this Fit King massager. There are two levels of knee heating to choose from. This massager was designed to target the symptoms of knee pain, especially while in the process of recovery from an injury. The extensions for this massager go up to 28,5 inches and are suitable for most customers.
Designed For People On The Go
This massager is especially recommended after physical activities such as climbing, running, yoga and cycling. Also if you are doing a lot of sports or you are traveling ofter, this FitKing Air Massager comes with a bag and it can easily fit into your luggage. The controller was designed to always show you the mode, heat and pressure level on the display.
Characteristics:
Weight of 4,39 pounds
24-month warranty
2 size extensions added
1 free travel bag included in the package
Sequential Compression Therapy Device FT-012A
Feet, CalvesAnd Thighs
This FitKing massager covers the largest area of your feet legs among all the FitKing products. It massages the feet, calves, knees, and thighs at the same time. It is therefore equipped with 3 + 3 airbags within the tubes. Just make sure to check your thigh size – it is extendable to 28,5 inches for the calves and up to 40 inches for thighs.
Tight Or Light, Hot Or Not
Fit King air compression leg massager is equipped with 3 modes: Sequence, Circulation and Whole Mode that work together with 10 massage techniques to produce the best massage effect. The 3 intensity options allow you to enjoy a light or a tight massage. There are 2 heating temperatures to choose from, to wrap things up.
S.O.S. For Circulation And Muscle Pain
Air Compression Therapy Device works with mentioned 3+3 independent channels and chambers. In that way, the device sequentially pressures the target zones of the feet, legs, and thighs. It serves best to reduce pain and tension in the muscles and other deep tissues. It improves circulation and reduces edema.
Characteristics:
Weights 4,8 kg
24-month warranty
An added timer that sets to 20 minutes
Travel bag included in the package
FitKing Foot Massager
Shiatsu Foot Massager Machine with Heat FT-001F
Ergonomic Design For Optimal Effect
FitKing Foot Massager has 44 rotation nodes and a rolling stick inside. The idea behind these pressure points is acupuncture by which a simple foot massage targets your whole body. Besides that, this foot massager has a heating option to soothe sore muscles and restart the circulation.
Personalize And Enjoy!
Options with this foot massager are impressive. You can choose from 3D kneading massage, 6 levels of intensity and deep shiatsu massage. The expert recommended time for a massage is 15 minutes, and for that reason, FitKing added the auto shut-off after that time.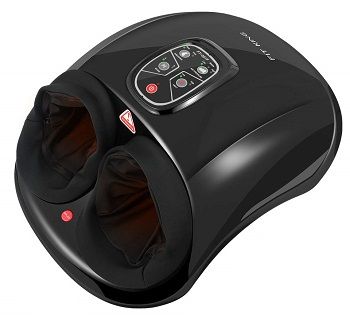 Simple And Practical
The design of this unit really had in mind the user. It is simple to use with just four buttons on top of the massager. Also, there is a quick deflate button to reduce the massage intensity immediately. Removable and washable foot cover ensures the maintenance of hygiene.
Characteristics:
20-minute auto shut – off
Cord length: 2,4 meters
18,1 x 13,5 x 8,3 inches
Weights 10 pounds
FitKing Leg And Arm Massager
Wireless & Tubeless Air Massager FT-015A
The last massager produced by FitKing is also the lightest and smallest of them all. 2 x 2 compression airbags provide the best massage experience because they cover a bigger area to provide the massage methods included. In that way, you can improve the blood flow and relieve tension and pain, but also help conditions such as varicose veins, swelling, and edema of the limbs.
Powerful Battery For Optimal Experience
This unit is wireless and controlled by a remote that allows you to choose modes and intensities. It also has a powerful battery that lasts 3,5 hours of active use. It takes approximately 2,5 hours to recharge it, and you can still use it while charging.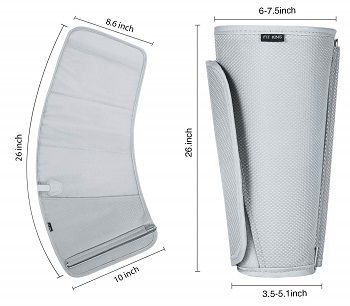 Different Intensities For Different Body Parts
The settings with this Wireless Air Massager allow you to choose from 2 different modes and 3 intensities. Like all the other Fit King massagers it can adjust to a different size. What is even greater about this massager is the shape which allows you to place it also around your arms and things.
Characteristics:
20 minutes auto shut – off
High-quality material
Manual in 5 languages
24-month warranty
Fit King Leg Massager User Manual
FitKing recommends studying the user manual in order to ensure safety and optimal user experience. Since there are no user manuals available online it is wise to keep the one you get within the package after you purchase the massager.
Conclusion – Wireless & Tubeless Air Massager
All of these reviewed massagers are a great product in their own category. Most of all I'd recommend the Wireless & Tubeless Air Massager. It is an amazing technologically advanced massager that can be placed o*6n different parts of the body depending on the painful symptoms. It can also be quickly charged and used for a long time.
To research some other compression foot massagers or air pressure leg massagers, visit my best home foot massager review. And if you are looking to save some money on the way check out this foot massager for sale.