Best 5 Leg Massager For Runners You Can Buy In 2022 Reviews
Do you run regularly and want to buy a leg massager that helps recover the muscles?
Then read on!
Read the reviews of the best leg massagers for runners, compare their characteristics and see which one you would like to purchase.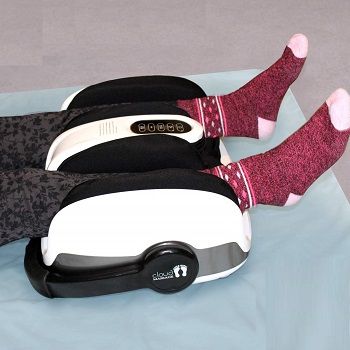 Short Guide On Buying A Leg Massager For Runners
Benefits Of Leg Massagers For Runners
During running, leg muscles are often being overused so the runners often suffer from cramps, pain and it can sometimes lead to serious injuries. Runners also often develop plantar fasciitis. Different massagers help muscles recover and relax, they alleviate pain and improve blood circulation.
Types Of Leg Massager For Runners
You can choose between the electric and mechanical models of leg massagers. Mechanical models have more massage modes (e.g. shiatsu, air compression, rolling, vibration) and adjustable speed and intensity. Mechanical leg massagers are rollers that you have to roll over the muscles. This way you have more control and they are lightweight and portable.
Which One To Choose?
If you just want to work the knots out of your muscles and prevent cramps, then rollers will do the job. If you suffer from plantar fasciitis, as many runners do, then you might want to look for an electric massager that will reduce the symptoms and pain. If you have problems with blood circulation, you want to find a leg massager that delivers heat.
Massage Settings
Shiatsu massage is the closest to the massage you would get from human hands. Air compression massage uses air chambers that inflate and deflate and massage your legs and feet. Percussion massagers are usually handheld and they apply pulses deep into the muscles. All these massage modes help relieve pain and tension.
Where To Buy Leg Massagers For Runners
I suggest that you visit online retailers to find the best deals on leg massagers for runners. Amazon has a wide selection of leg massagers and you can often get a good deal if you use their discounts and coupons. If you need more reassurance, you can always read customer reviews about each product.
Best 5 Leg Massagers For Runners Reviews
Best Air Compression Leg Massager For Runners
FIT KING Leg Air Massager for Circulation and Relaxation
Used For Feet And Calves
The Fit King leg massager is used to massage both feet and calves and that is why it is perfect for runners and athletes. You wrap it around your legs and the massager relieves pain, fatigue and stimulates circulation. The massager has 2 by 2 airbags that inflate and deflate and press the foot and calf muscles.
Control The Intensity
The Fit King leg massager for runners comes with the handheld controller. You use it to select two massage modes and three massage intensities, low, mid and high. You can choose the 20-minute timing function, after which the massager automatically turns off. The massager is powered by adapter.
Large Size
This leg massager for runners adjusts to the size of the calves. The massager comes with two extensions so people with thick calves can use it. The maximum size of the calves can be 28.5 inches. The front of the massager is not closed so it is suitable for people with large feet as well.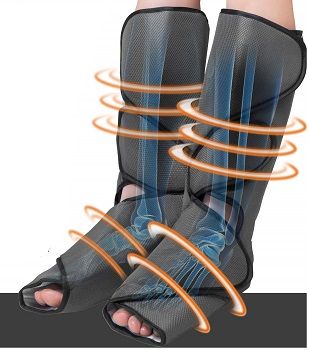 Compact And Portable
The Fit King leg massager comes with a mesh bag for storage so you can take it with you on trips or use it at home. It can be used by everyone: people who sit or stand for a long time, active sportspeople, older people, etc. The adjustable settings ensure that everyone finds the right massage intensity and mode.
Characteristics:
Air pressure massage for feet and calves
Adjustable modes and intensities
Suitable for large feet and calves
Handheld controller
Best Heated Leg Massager For Runners
Cloud Massage Shiatsu Foot Massager Machine With Heat Therapy
Massage Feet, Ankles Or Calves
The Cloud Massage massager can be used to massage your feet, ankles or calves, but not simultaneously. The massager comes with an adjustable optimum angle comfort bar so you can sit in a comfortable position during the massage. For ankle and calf massage, the massager should lay flat.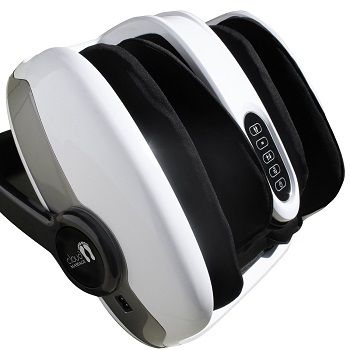 Multiple Massage Modes
The Cloud Massage leg massager features vibration, air compression massage and heat function. It massages pressure points in the feet to relieve pain. The massager helps with neuropathy and plantar fasciitis that runners often experience. The optional heat function adds soothing warmth to relax muscles even further and help with circulation.
Fits All Sizes
The massager is open-toed so it can fit even large shoe sizes. The massage area where you put your feet/calves is 5 inches wide and 11 inches long. The massager fits both men and women and can be used by people who exercise regularly and by those that want to relieve their pain and stimulate circulation.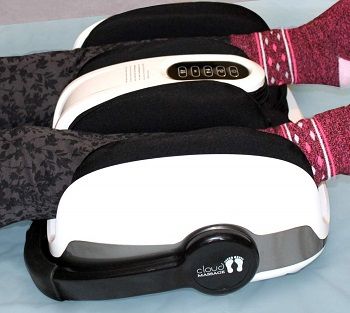 Ergonomic Design
The massager comes with an adapter. The control panel is placed on the massager and you can adjust the intensity and mode of massage and add heat or not. Costumers said that it delivers strong massage and the manufacturer recommends that you use the lowest setting until you get used to it.
Characteristics:
Massages feet, calves or ankles
Helps with plantar fasciitis, neuropathy, poor circulation
Features vibration, air compression and heat
Best Shiatsu Massager For Runners
Human Touch Reflex SOL Foot and Calf Shiatsu Massager
Delivers Reflexology Massage
The Human Touch leg massager features powerful rollers and foot vibration that deliver deep reflexology massage. The patented CirQulation Figure-Eight technology helps circulate the blood from the feet to the rest of the body. The leg massager improves circulation and massages calves from the sides, not the back.
Adjustable Intensity And Heat
The Human Touch leg massager has two intensity levels that you can choose from. You can also choose to use the WarmAir technology that helps further with improving the blood circulation. The control panel is placed on the top of the massager and you select three auto-massages with two speed options, heat and vibration.
Helps With Different Problems
This leg massager is recommended for everyone who suffers from sore feet, ankles and calves, plantar fasciitis, fibromyalgia, poor circulation. The massager offers instant relief and rejuvenates muscles so it can be used by runners as well.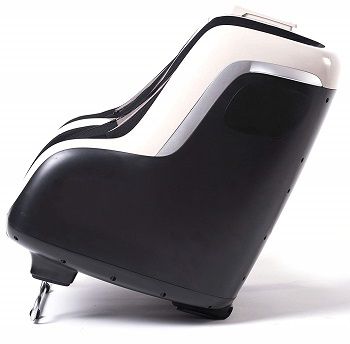 Maximum Comfort
The Human Touch leg massager for runners has extended height to ensure maximum massage coverage for longer legs. The base can be adjusted and tilted so you can choose between two massage angles. The sleeves on the massager can be removed and washed in the washing machine to keep the massager clean and fresh.
Characteristics:
Rollers and vibration deliver reflexology massage
Adjustable intensity and speed
Optional heat function
Adjustable tilt base
Washable sleeves
Best Cheap Leg Massager For Runners
Elite Sportz Muscle Roller Stick
Targets Sore Muscles
The Elite Sportz massage roller stick allows you to massage sore and tight muscles in your whole body. You should roll the area for about 5 minutes to notice how the tension and soreness have released. You can use it on calves, hamstrings, quads, IT band. This makes it ideal for runners since it prevents muscle cramps.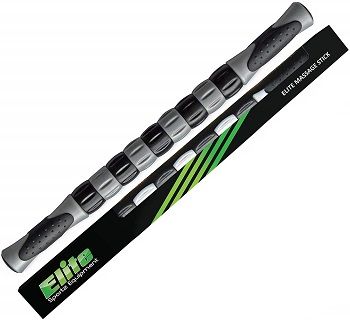 You Choose The Pressure
Since you use this leg massage roller manually, you choose how much or how little pressure you want to apply. At first, you might be sensitive to pain, but, if used regularly, you will be able to apply more and more pressure. Many customers that run regularly said that this massager helps them with tight hamstrings.
Comfortable And Ergonomic Design
The Elite Sportz leg massager roller stick has ergonomically made handles. You will get a good grip and your hands will not slip. The roller stick has a 2-millimetre gap between each roller so it rolls smoothly over the areas.
Compact And Portable
The biggest advantage of this roller leg massager for runners is that you can use it wherever you like. There are no cords or batteries that need charging and you can use it laying down, sitting or standing up. The rolling stick weighs only 0.8 pounds.
Characteristics:
Prevents cramps and releases tension in muscles
Control the applied pressure
Comfortable handles
Gap between rollers for smooth rolling
Compact, lightweight and portable
Best Handheld Leg Massager For Runners
OPOVE M3 Pro Massage Gun Deep Tissue Percussion Muscle Massager
Percussion Massager
The Opove massage gun is a handheld percussion massager, which means that it applies pulses of concentrated pressure into the muscles. It delivers up to 3200 percussions per minute that work the knots and tensions out of the muscles and improve blood circulation. It shortens the recovery time after intense workouts.
Adjustable Speed
You can adjust the intensity of the Opove massage gun and it has three-speed levels. The length of the strokes is 12 millimeters. The massager automatically shuts off after 10 minutes of use to avoid injuries caused by overuse. The massager can be used for bulk muscle groups, deep tissue massage, for neck, spine and Achilles, etc.
Quiet Motor And Long-Lasting Battery
The Opove massage gun has a Unique Quiet Glide technology and 24V brushless high-torque motor so it will not produce a loud unpleasant buzzing sound. The massager has a lithium-Ion battery that lasts up to 3 hours per charge. This can last you for a full week of workouts.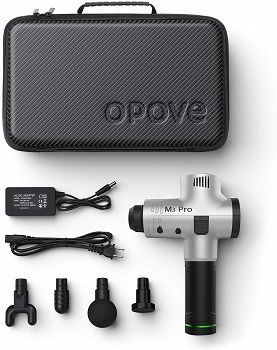 Anti-Drop Shell
The Opove massage gun has a shell that is made of Nylon 66 and glass fiber. This means that the massager will not break in case you accidentally drop it. The massager weighs 2.2 pounds and it comes in a carrying case so you can easily take it with you to the gym. The massager has a non-slip handle and it is waterproof.
Characteristics:
Delivers accurate percussion deep into the muscles
Long battery life and a quiet motor
10-minute auto-shutoff
Anti-drop Shell
Conclusion: Which Leg Massager For Runners To Buy?
I think that the best leg massagers for runners from this list are the FIT KING Leg Air Massager and the Elite Sportz Muscle Roller Stick. The Fit King leg massager massages both calves and feet by delivering air pressure massage. The Elite Sportz roller massager is great for runners because it prevents muscle cramps and can be used wherever and whenever you like because of its small size.
In case you want to check out other massagers, read my article about the best foot and leg massagers. If you suffer from plantar fasciitis, you might want to see the best foot massagers for plantar fasciitis. If you are on a budget, check out the best cheap foot massagers.