Best 2 Maxkare Foot Spa Massager For Sale In 2022 Reviews
Looking for a massager to relieve the pain and discomfort in your feet? Or just to enjoy a warm bath after a long day? MaxKare Foot Spa massager offers all that at an affordable price. Here is everything you need to know about it.
MaxKare Brand – Reliability and Quality
Maxkare is a  Chinese company with its headquarters placed in Shenzhen. They specialize in home gadgets, massagers, heaters, baby products, and sport equipment. Maxkare massage product varies from shoulder massagers to foot spa massagers and massaging tables. Their products are available on Amazon.
MaxKare Takes Care Of Their Costumers
MaxKare replaces any defective product on the manufacturer's side, and they approve refunds up to 30 days after ordering a product. The detailed instructions on how to take care of your product are available on their website.
MaxKare Spa
One of the massaging units from MaxKare massaging line is Foot Spa Massager. It's a multifunctional gadget to bring the spa to the comfort of your home.
3 In 1 MaxKare Foot Spa Massager
MaxKare Foot Massager is a foot bath with a heating option that targets your circulation and relieves the tension and pain in your feet. The Foot Spa offers also bubbles and vibration to really get that desired effect of the spa. This massager lets you set the temperature to your liking. The range is from 35 to 48 degrees Celsius. There is also no need to add hot water – this massager maintains the warmth by itself.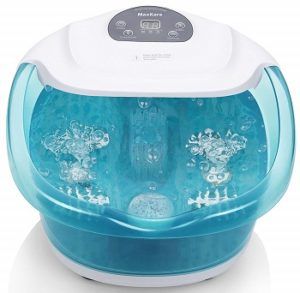 Most Importantly – A Massager
Since MaxKare Foot Spa is by definition a massager – the manufacturer focused the engineering towards building 4 massaging rollers placed strategically to key spots of the soles of your feet. They are removable so you can personalize the experience completely. An important note is that the rollers are not automated, so you will have to move your feet to use this feature.
Elegant Design
Max Kare Foot Spa was built to please the eye as well. Its transparent case gives a fashionable look to it so you can easily place it anywhere inside your home or office. The outline of the massager was designed to eliminate the splashing. The case is removable so you can add anything you like to the water to really get that spa experience.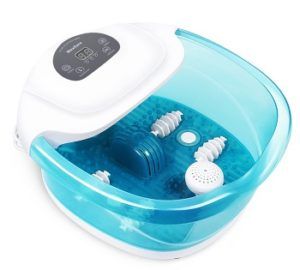 Simplicity And Quality Come Hand In Hand With Max Kare Foot Spa
Using the massager is as simple as abc. The display consists of three buttons that let you control the temperature, vibration, and heating along with the power button. The MaxKare foot massager also comes with the non-slip rubber foot stands to prevent your feet from slipping. The product is FDA quality certified and guaranties you recognizable safety and quality.
Characteristics:
Weight 1,6 kg
Dimensions 42,6 x 37,7 x 21,6 cm
Heat, Bubbles and Vibration Options
120 V
Power Rating of 500W
MaxKare Shiatsu Kneading Electric Foot Massager
Along with the Foot Spa Massager, MaxKare developed an electric massager for those not accustomed to foot baths, but still enjoy a massage like from a professional masseur.
Rolling, Scraping, Pushing And Airbag Massage
Properties of this device are rolling and scraping massage focuses on well know acupuncture points according to traditional Chinese medicine. The massager has also added an airbag to rhythmically pressure your feet and soother muscles in your feet.
Adapted To Your Needs
MaxKare Shiatsu foot massager comes with 5 modes to choose from since MaxKare emphasizes the importance of individual preferences of massage experience. Rolling massage, air compression, and heat are also options to choose from.  There are 3 massage intensities, and MaxKare claims even the highest intensity won't cause any pain.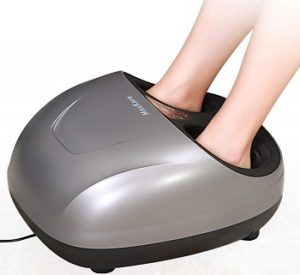 Elegant And Simple
The massager comes with removable and washable cloths. Even the massager gives you so many options to choose from, operating it comes easy. The command consists only of 5 buttons. The MaxKare Shiatsu massager comes in a pleasing mat black color adaptable to home or office setting.
Characteristics:
8 x 8.9 x 17.1 inches
Automatic timer set to15 minutes
Temperature range from 86℉ to 108℉
Foot size up to 11 US
Conclusion – True Value For Money
MaxKare Foot Spa truly brings the relaxing tone of the spa to you. If you are struggling with pain, tension, and discomfort in your feet, look no more. Also if you suffer from impaired circulation and swelling, you are looking to ease the symptoms with MaxKare Foot Massager.
If you are still looking for a perfect match there are more foot bath massager with heat. There are plenty of foot massage devices and foot massagers for sale to suit your liking and price range. Also, don't hesitate to check out my review of heated foot massagers.