Top 2 Arealer Foot Spa Bath Massagers For Sale In 2022 Reviews
Pain and discomfort in the feet are a sign of stress and can even indicate an underlying disease. Luckily – taking care of your health and wellbeing has never been cheaper and more convenient than now in the era of electric massagers. Here are two Arealer foot massagers to consider while looking to buy a massaging device.
Information About Arealer Brand
Health And Wellbeing
Arealer Company specializes in making affordable massagers, health monitors, and heating pads to enable healthier lifestyles. They combine advanced technology with smart massagers. In their massage product section, you can find foot, neck, back, and handheld massagers.
Arealer Foot Massagers Are All About The Acupressure With Heat
Arealer Company produces two different types of the foot massager. One is electrical and the other is a spa massager. The first is designed to target special pressure points on the soles of your feet according to the acupressure practice. In that way, the optimal results can be obtained since they massage the feet but target the body as a whole.
Foot Spa Is More About The Relaxation And Stress Relive
Arealer Spa Massagers take a different approach to the matter. While also having the automatic massagers they deliver the spa experience as well. They give more freedom to the user to personalize the massage by adding the oils or salts into the water. Both ways target the circulation but can specifically target different needs of the user.
Top 2 Arealer Foot Massagers
Arealer Foot Massager With Air Compression
3D Massager
Arealer foot massager is made to stimulate your acupuncture pressure points by combining shiatsu and air compression. The massage rollers are designed to deliver rolling and kneading massage along with scraping and pressing. By adding the ballon for air pressure the massager became full 3D, so your feet feel really engaged and pampered.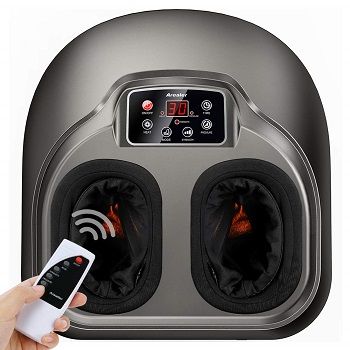 Personalize!
This massager comes with plenty of options to satisfy even the most demanding customers. There are 2 different heating temperatures available. You can also choose between different modes, intensities, strengths, time and pressure. The options can be used individually or in a combined fashion.
Easily Shared And Maintained
Arealer foot massager is controlled via an LED display or remote control. In that way, the unit is well accustomed to the elderly. Also, the feet sleeves are removable and washable – therefore, you can also share it and keep it clean. Areal made sure that you can get a full product guarantee that lasts for 6 months, within that time they will replace the unit if you encounter any defects.
Characteristics:
Heating temperatures 45° to 50° Celsius
Controlled also with remote that is included with the package
7 pounds
2 x 8,7 x 16.5 inches
Arealer Foot Spa
6 In 1 Foot Spa
A younger cousin of the described foot massager is equipped with 6 options – automatic roller massage, automatic foot stone massage, oxygen bubble massage, infrared heat, water warm preservation, and the timer option. There are automatic rollers included so you can count on a quality massage along with the spa effect.
Heat And  Bubbles
Arealer foot spa bath massager has an optional heat property which can be set to 35 of 48 degrees Celsius. The heat is infrared controlled, and there is no need for additional hot water. The bubble function works magic for plantar fasciitis and tired feet. Essential oil goes hand in hand with those two options.
Safety Comes First
The manufacturer made sure that safety is guaranteed. The unit comes with no-slip handle and the case that ensures no spillage. There is an integrated automatic power-off function to fully protect the user. The Arealer foot spa massager passed FDA, CE and RHOS certification.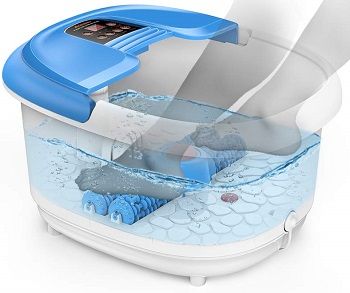 Arealer Foot Spa Benefits
Whether you just want to relax after a long day or relieve pain in your feet Arealer's got your back. You can also count on some beneficial effects for your skin. Moreover, it could serve as a perfect gift for your loved ones!
Characteristics:
6 functions to choose from
External drainage of the unit possible
7,5 pounds
17 x 10,6 x 17 inches
Conclusion – Are Arealer Foot Massagers Good?
All in all, both massagers offer much for the investment. I'd highly recommend the Areal Foot Spa since it's one of the few massagers that have included automatic rollers, especially for the given price.
Since there are so many foot bath massagers and air compression leg massagers on the market sometimes it can be a real struggle before you find the perfect match for you. Luckily nowadays it is possible to find many quality massagers and not spend a fortune in the process. I tried to put it all in a single review, so check out my foot massager for sale review.