Best 5 Kneading Foot Massagers On The Market In 2022 Reviews
Are you looking for a kneading foot massager to relieve your pain?
Then read on!
You will find the reviews of the best 5 models of kneading foot massagers and a buying guide. Take into account my tips, compare the specifications of the foot massagers and choose the best for you.
What To Know Before Buying A Kneading Foot Massager
What Does Kneading Foot Massager Do?
Kneading foot massagers have rotating heads that deliver deep massage and help relax your muscles, alleviate pain, reduce tiredness and soreness. The rotating heads massage your whole foot, from heel to toe. Most foot massagers today deliver shiatsu massage so you get the massage that is almost identical to the one you would get in a salon.
Which Design To Choose?
Kneading foot massagers can be found in two versions: open and closed models. Open models have a massage platform where you put your feet and they are smaller and more lightweight. Closed models have foot chambers inside which you put your feet. They massage your ankles and upper part of the foot as well.
Size Of The Kneading Foot Massager
If you have very large feet, you should make sure that the foot massager can fit your size. Also, if you have extremely small feet, do not buy foot massagers for large feet because rotational heads will miss a part of your foot. For average foot, any size will work.
Massage Modes To Consider
Most kneading foot massagers come with the optional heating option. It improves blood circulation and creates a soothing effect. Air compression mode comes with closed models. The airbags on the walls of the massager inflate and deflate and massage your feet. Some massagers allow you to adjust the intensity and strength of the massage.
Where To Buy Kneading Foot Massagers
For the best deals on kneading foot massagers, consider searching online retailers, such as Amazon. One Amazon feature that I find really useful is the reviews that the costumers leave for each product. Also, Amazon suggests and compares similar products so you know you have selected the right one for you.
Best 5 Kneading Foot Massagers Reviews
Best Kneading Feet Reflexology Foot Massager
MARNUR Shiatsu Electric Kneading Foot Massager Machine
Three Massage Functions
The Marnur shiatsu foot massager with kneading and heat has three massage functions that you can control independently. This way you get to customize your massage. You can choose the rolling massage, air compression, and heating function. Heating function relaxes muscles, even more, reduces tension and gets rid of the muscle knots. It is ergonomically designed and can fit the size up to 12.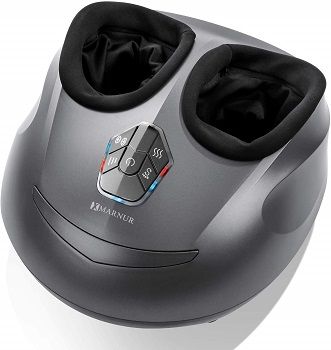 Adjust Modes And Intensity
You can choose between three modes: relaxing, gentle and dynamic. You can also adjust the intensity of air compression, depending on your preferences, from mild to intense. Intense mode massages your whole foot up to ankles. The heat can be adjusted to two levels, 104 degrees Fahrenheit or 113 degrees Fahrenheit.
Relax Your Whole Body
The Marnur electric kneading shiatsu foot massager is based on reflexology, which means that the rollers imitate the hand-pressing movements. You can get the massage that you would get in a salon at the convenience of your home. The foot massager restores flexibility and can help relax your whole body and mind.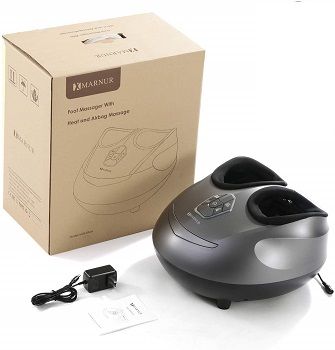 Easy To Clean And Safe
The fabric that covers the foot chambers is soft and can be removed. You can wash it with water to keep it clean and fresh. The foot massager turns off automatically after 15 minutes, which is an optimum massage time each day. The kneading massager also has a system that prevents it from overheating.
Characteristics:
Rolling massage, air compression and heat
Adjustable massage intensity and mode
Suitable for large feet
Easy to keep clean and fresh
Best Deep Kneading Shiatsu Foot Massager
HoMedics Triple Action Shiatsu Foot Massager
Triple Rotational Heads
HoMedics foot massager features three rotational heads. They rotate the whole foot, from heel to toe. The deep kneading shiatsu massage relaxes muscles, relieves pain, reinvigorates your feet and soles. The shiatsu massage is close to the massage you would get from a professional masseuse.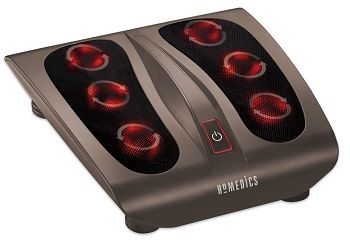 Warm Your Feet
The HoMedics deep kneading shiatsu foot massager also allows you to use heat that rejuvenates tired and painful feet even more. You can turn it off or on. The heat is especially useful for winter because it enhances blood circulation. Your feet will not sweat thanks to the breathable fabric on the massage platform.
Easy-To-Use Controls
The HoMedics foot massager does not have many controls. They are placed in such a way that you can press them with your toes. This means no bending from the comfy position. To turn on the massage process, you press it once and if you want to use heat, you have to press the control button twice.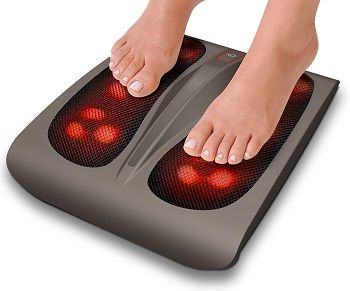 Large Massage Platform
This deep kneading foot massager has a large platform that is designed for every size. This means that people with large feet do not have to worry about massager not fitting them. The device does not have foot chambers so it takes up less space. It is 14.5 inches wide, 13.5 inches long and 4.5 inches tall.
Characteristics:
Triple rotational heads deliver deep-kneading shiatsu massage
Heat turns on or off
User-friendly controls
Large massage platform for large feet
Best Deep Kneading And Rolling Shiatsu Air Pressure Foot Massager
AREALER Kneading Foot Massager With Air Compression
Five Massage Modes
Arealer kneading shiatsu therapy feet massage machine comes with five different working modes: kneading, rolling, scraping, air compression and heating function. Air compression and heating enhance blood circulation, help you relax and unwind. The different modes allow you to choose the massage method you like, scraping, pressing or kneading.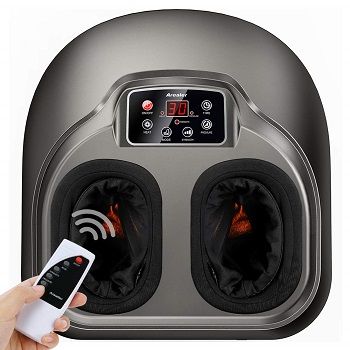 Choose The Intensity
Except for the massage method, you can also choose the desired level of air pressure and strength. You can also set the time and heating can be turned on or off.  The settings are chosen by the press of the button and displayed on an LCD. You get a remote control so there is no need to bend to reach the control buttons.
Easy To Clean
The Arealer kneading shiatsu foot massager has detachable breathable covers on the foot chambers. You can simply unzip them and wash in the washing machine. The massager will turn off automatically in case the temperature rises above the safety levels.
Lightweight And Fashionable Design
The dimensions of this Arealer kneading shiatsu therapy foot massager are 14.2 by 8.7 by 16.5 inches. It weighs 7 pounds, which is less than foot massagers of this type usually weigh. The massager can fit shoe sizes from 4.5 to 11.
Characteristics:
Five massage modes
Adjustable air pressure and massage intensity
Remote control included
Detachable washable covers
Lightweight and portable
Best Shiatsu Electric Heat Kneading Foot Massager
Nekteck Kneading Foot Massager With Soothing Heat
Experience Shiatsu Massage At Home
Nekteck foot massager has 6 massage heads and each massage head has 3 rotating massager nodes. This delivers a shiatsu massage, a massage that is the most similar to the one you would get from human hands. If you turn the infrared heat on, it will relax your muscles even more.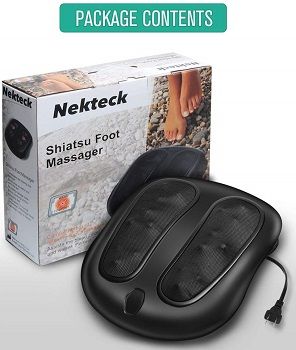 Easy-To-Use Controls
The controls on the Nekteck kneading foot massager are placed in such a way that you can press them with your toe. Before pressing the control button, you should press the on/off switch on the side of the massager. The massager comes with a carrying handle and built-in cord storage.
Height Can Be Adjusted
You can adjust the height of the Nekteck shiatsu kneading foot massager to three different levels. This means that you can find the position that is most comfortable for you. Customers said that this foot massager has no problem fitting the men's size 14.
Compact Dimensions
The Nekteck kneading foot massager is not as bulky because it does not have foot chambers, but a foot platform. It is 15.8 inches long, 14.2 inches wide and 3.2 inches tall. The weight of the massager is 7.63 pounds. The infrared heat that is released and can be turned on or off is mild for your safety. The sensation gets more intense as you use it.
Characteristics:
Six massage nodes deliver deep shiatsu massage
Infrared heat can be turned on or off
Height adjusts to three different levels
Cord storage and carrying handle
Best Deep Kneading Shiatsu Foot Massager For Plantar Fasciitis
Naipo Deep Kneading Foot Massager With Heat For Plantar Fasciitis
Experience Deep Kneading Massage
This Naipo shiatsu foot massager with kneading and heat also has three rotating heads and eighteen deep-kneading nodes that deliver shiatsu massage. They target the acupressure points on the foot, reduce pain, relieve stress and muscle tension. If you turn the heat on, it will stimulate blood circulation even more. The heat is around 104 and 113 degrees Fahrenheit.
Helps With Plantar Fasciitis
Even just 20 minutes a day using this kneading foot massager will help with plantar fasciitis. If you work long hours standing and suffer from chronic pain in your heel, try giving this massager a go. The kneading nodes will deliver a massage that you would get in a salon.
Easy-To-Use
This foot massager has only one control button. You can turn it on by pressing it with your toe. You set the mode and choose the heat simply by touching it with your toe, no need to bend. Also, one button means that you do not have to think which button is for which purpose.
Ergonomic Curved Design
The Naipo shiatsu foot massager with kneading and heat is tilted at a 10-degree angle, creating a comfortable position. The large open platform can fit even bigger shoe sizes. Breathable mesh does not irritate your skin and allows the heat to work faster.
Characteristics:
Rotating heads deliver deep kneading massage
Optional heat improves circulation
One toe-touch control button
Conclusion: Which Kneading Foot Massager To Choose?
In my opinion, the best kneading foot massagers are the Arealer Air Compression Kneading Foot Massager and the Nekteck Shiatsu Heated Kneading Foot Massager. The Arealer foot massager has five different massage modes, including the air compression that massages the entire foot up to ankles. The Nekteck foot massager has massage nodes that deliver shiatsu massage and infrared heat for improving circulation.
If you are interested in other foot massagers, check out the best foot and leg massagers. To see other massagers with air compression, read my article on the best air compression leg massagers. If you want a foot massager that uses water, check out the best foot bath massagers.