Best 3 uComfy Foot & Leg Massages You Can Get In 2022 Reviews
Since the market is swarming with a variety of foot massagers – it is now more and more difficult to find a quality product. Cheap solutions often fail us, and the continuous search can be a drag. But still, every now and then a treasure can be found. These massagers by uComfy are worth the read.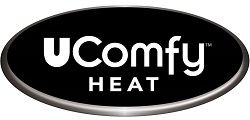 uComfy – Most Relaxing And Satisfying Massager
uComfy is a USA company with its headquarters in Wallingford, Connecticut. They specialize in the manufacturing of massaging devices. In their product section, you can find feet, leg, handheld and even eye massagers. uComfy motto is to provide the best massage you've ever experienced.
Being A uComfy Customer
uComfy emphasizes the importance of having a satisfied customer. To make that really happen they offer a 30-day money-back guarantee if you are not satisfied with your order. Also for all the questions, they have their on-call customer service, which is available 12 hours a day. uComfy conveniently sells their products on Amazon, with free shipping and delivery within 30 days.
Best 3 uComfy Foot Massager Reviews
uComfy Shiatsu Foot Massager with Multi-Level Settings
Reflexology And Its Benefits
uComfy massagers use reflexology which teaches to apply pressure to specific points of the feet. It is thought that it enhances the effects of the classic massage and helps relax the whole body, not just the feet. These types of massagers benefit the circulation, swelling, and edema with the heating property – and on the other hand – sooth the muscles and deep tissues with the kneading and vibration that can be more or less intense.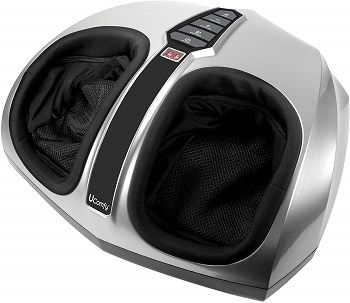 Versatile Engineering
uComfy shiatsu foot massager is designed to adjust to any customer. It has 5 different intensity settings so you are able to modify and gradually increase the massage level. Since this is a shiatsu foot massager, it comes with a possibility to turn on the shiatsu- kneading massage mode. uComfy also left some space for lovers of traditional vibration style massage so this massager can go both ways.
Heating And Air Pressure Features
Heating is also a property of this uComfy foot massager, it can, of course, be turned off at any point during the massage. In that way, you can personalize on the go. Air pressure is an excellent design trait since it completely changes the massage experience. When you use it, the pressured airbags inflate and additionally stabilize the feet.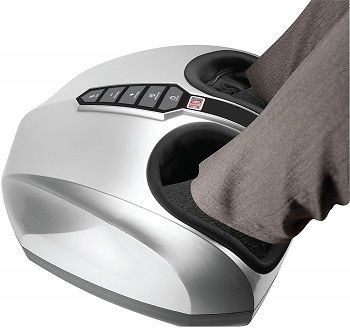 Durable And Easily Maintained
uComfy foot massager is made out of durable ABS plastic and nylon. The rubber stand allows you to use it on a tile or wooden surface without slipping. On top of that – uComfy shiatsu foot massager comes with removable zip clothes that are machine washable. The manufacturer has really thought of everything.
Characteristics:
5 intensity levels
2 different modes
Weights 12 pounds
Measures 17.7 x 15 x 18.1 inches
Available in red and silver color
uComfy Leg And Foot Massager
Expanding The Domain
The second massager by uComfy offers something different. It still uses the combination of heat, vibration and kneading to relieve the pain and tension – but it focuses on the calves and ankles as well. It kept the dual-mode property so you can still enjoy classic or shiatsu massage. Although uComfy stayed loyal to the 2 mode option it added 3-speed levels and reduced the intensity to only 3 settings.
Not Just A Bigger Coverage
uComfy added more airbags – 16 to be precise. Also, there are flexible kneading discs located at the level of calves and ankles. Since this massager would usually lock your feet and calves into a fixed position that could cause some discomfort. Luckily there is an adjustable tilt angle so you can sit comfortably.
Easy To Operate
This uComfy leg and foot massager is much taller than the previously reviewed foot massager, therefore the display is set higher. This easy – to – reach design is backed up with 4 buttons that allow you to operate and select your preferences. uComfy leg and foot massager comes with a 15-minute auto – shut off timer, for those who cannot help but to fall asleep.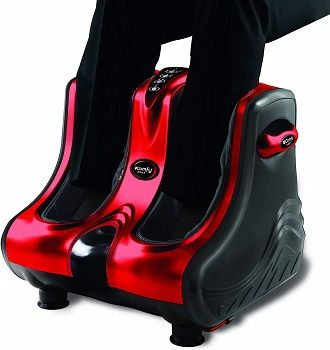 An Eye For Details
When talking about customer experience it has to be mentioned that the quality standards stayed impressive. The material is durable and the maintenance is made easy with removable and washable covers. On top of all, there are side handles for simple transportation.
Characteristics:
Weights 34 pounds
Measures 18x 18 x 16 inches
15-minute auto shut – off timer
3-speed levels
3 intensity levels
uComfy Acupressure with Heat Foot Massager
24 Infrared Heating Points
The last foot massager by Comfy comes with impressive 24 infrared heating points to ensure equal heating intensity throughout the whole foot. uComfy Acupressure massager also uses air pressure to enhance the massage effects. It does so with 4 unique airbags. And you can choose from 3 different levels of pressure.
Reflexology Experience With uComfy
As the name suggests this uComfy Foot Massager uses the ancient technique of acupressure and reflexology. It targets the specific pressure points on the feet to successfully relax and relieve the pressure from the whole body, not just the feet. It achieves the effect with 192 acupressure nodes strategically placed at the bottom of the massager.
Acupressure Benefits
Heat is traditionally believed to help restart the circulation and deal with common symptoms such as swelling and edema. The successful combination of massaging nodes that soothe the aching feet and the airbags that pressure the ankles together produce the optimal massage effect. With frequent use, you can experience the relief of the symptoms of neuropathy and plantar fasciitis.
Characteristics:
Measures 17.2 x 15 x 18.1 inches
Weights 18.65 pounds
24 Heating Points
192 Acupressure nodes
Timer available (10, 15 or 20 minutes)
User Manual uComfy Foot Massagers
There are no manuals available for uComfy Foot Massagers, therefore the manufacturer recommends to keep the one that comes with the package. It contains valuable safety and maintenance information about the products.
Conclusion –uComfy Shiatsu Foot Massager
To sum up, I feel that the uComfy Shiatsu Foot Massager really deserves the attention it gets. It offers everything you could possibly imagine in a shiatsu foot massager. Although this is not a cheap massager, it seems to me that it has much to show for the given price. When compared to the uComfy leg and calf massager that costs twice as much  – the value for the price is on the side of the shiatsu foot massager.
As I said at the beginning, the market is swarming with foot and leg massagers of all shapes and colors. To continue the search for the best-heated foot massager or a best calf massager check out the review of the best foot massager of them all.