Best 2 Trumedic Foot Massagers On The Market In 2021 Reviews
Foot massager is an amazing device that copes with tension and discomfort that you accumulate every day during long hours at work. But even better than having a foot massager is having one that perfectly suits your needs. This TruMedic foot massager review guides you through their finest massagers available on the market.

TruMedic Company
TruMedic is a brand that makes everything massage related – from back, neck, home TENS units, to massage chairs.  They are a company born in New York, the USA where they design and produce the massagers from scratch. They embrace technology with creativity and develop devices that successfully manage pain and relief stress.
30 – Day Money Back Guarantee For All TrueMedic Products
TruMedic products can be bought on Amazon. For all of them, you can get a 30-day money-back guarantee if you are not 100% satisfied with the product. All you have to do is contact their support staff. The mentioned staff is reachable via e-mail, telephone or at their website.
TruMedic Foot – What It Takes To Be Great
TruMedic Instashiatsu Foot Massager Review
InstaShiatsu Foot Massager with Air Compression & Heat
TruMedic Instashiatsu Foot Massager is one of the massagers with the chamber design. Therefore, one of the properties it contains is air pressure massage. Besides that, you can choose from 3 different intensity levels of the rolling massage to really reach the deep tissues of the feet for the best results.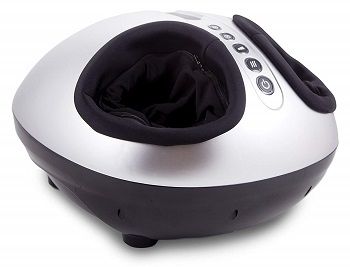 3 Modes To Customize The Massage
Trumedic Insta Shiatsu foot massager has also different massage modes to offer to the customer. All you have to do is press the mode button and the massager will generate one of the 3 specific massage combinations. Since this is a high – end massager, it has an integrated heating option that positively alters the effects of the massage.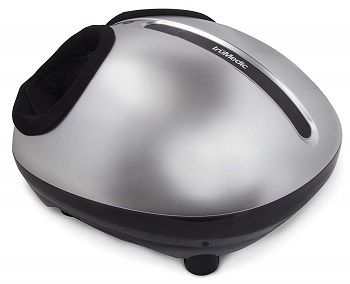 Foot & Calf Massager
This deep tissue shiatsu massager was created to soothe tired feet, and rejuvenate and relax the user. Instashiatsu heated foot massager by Trumedic has added two air compression sleeves that are placed on the calves. In that way,Instashiatsu foot massager with air compression becomes a calf massager in a blink of an eye.
Characteristics:
Measures 18 x 18 x 12 inches
Weighs 14.2 pounds
Accommodates feet up to size 13 men and 12 women (US)
Heating option
TruShiatsu PRO Foot Massager
Trumedic Foot Massager With Air Compression
The second Trumedic shiatsu foot massager comes in an elegant black color. It is also a chamber – based massager that is equipped with airbags to deliver air compression massage. The other type of massage you can use with this Trumedic shiatsu foot massager is a deep – kneading massage thanks to the 6 automatic rollers placed underneath the soles.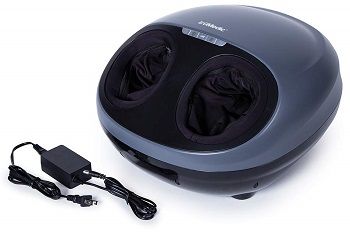 Reflexology Based Experience
This Trumedic foot massager is based on the principles of reflexology, which means that each one of the 6 rollers is placed strategically to massage the specific area of the feet. Combining that with 8 airbags results in the full-body relaxation effect. Also, Trumedic Foot Massagers are recommended for all struggling with overworked and tired feet.
3 Time Settings & 3 Intensities With Instashiatsu Heated Foot Massager
The options you can explore with Pro Foot Massager are 3 different time settings and 3 intensities of the kneading massage. Of course, there is also a heating option provided by Trumedic shiatsu foot massager that is far-infrared. In that way, you can kickstart your circulation and say goodbye to the cold and swollen feet.
Characteristics:
Weighs 3.4 pounds
Heating option included
3-time settings
3 different modes
User Manuals
Instructions manuals are not available for neither Insta shiatsu foot massager nor truShiatsu PRO Foot Massager. The manual will still be included in the package so it is wise to read it carefully and keep it close to your massager at all times. It contains valuable information about the device in general and some tips on how to use it for the optimal massage effect.
Conclusion – Which One Is The Best Trumedic Foot Massager?
Both TruMedic foot massagers are a good example of a wholesome massager. They are engineered to deliver a great massage to both occasional and experienced users. To conclude, I'd say that I slightly prefer the Trumedic Instashiatsu foot massager since it expands its coverage to calves, which completely changes the game.
The reviewed shiatsu foot massagers are both compression foot massagers and heated foot massagers. Many of the massagers in the same category can be found among the best-rated foot massagers since they have been proved the most effective ones when it comes to medical issues.