Best Cozzia Air Foot Massager For Sale In 2022 Reviews
Do you suffer from tension in your feet?
Your feet are ofter cold and that causes discomfort?
Or you have circulation problems and now you've stumbled across Cozzia while browsing for your personal foot massager? Here is everything you need to know about it.
About Cozzia
Cozzia is a company that specializes in manufacturing massage machines and equipment. Their headquarters are in South California, where they cooperate with one of the finest engineers in the field. Cozzia's main agenda is to shift our attitudes from massage as a luxury, towards it being considered a necessity. The company has been in business for more than 20 years to bring the best to the robotic massage industry.
Product And Customer Service
Cozzia builds its products with the consumer in mind. Their attitude towards being reachable at all times by employing staff representatives to take your call adds up to the quality service they offer. They also offer in-home service to all costumers. All that you make sure you can leave your massager feeling more relaxed and grounded.
CozziaHome Spa
Cozzia has been an expert in producing massage chairs for more than two decades now, but the expertise in the field has produced an amazing outcome: Cozzia Home Spa Products. One of those is Cozzia Air Foot Massager
Cozzia Air Foot Massager
Cozzia Air Foot Massager is one of the Cozzia Home Spa products, which bring the relaxing and calm moments of a spa right into the comfort of your home. This new massager from the Home Spa line will leave you coming back for more.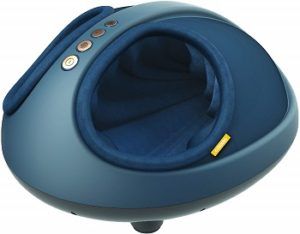 What Do I Get From This Massager?
Cozzia Air Foot Massager works on as a 3D Air Massager, which basically means it applies air compression to pressure your feet in just the right places to achieve deep, sooting, tension-relieving massage. Cozzia Foot Massager also includes heating, which is one of the optional properties of the unit. This massager also comes with 2 different modes to choose from to suit your preferences. Moreover, it gives you 2 massage intensity levels and the vibration button.
What About The User Experience?
Cozzia took special care of the design of its Air Massager.  It is small and light, and therefore easily manipulated around the home or office. It's rounded modern shape makes it adaptable to any setting. The buttons are placed on the top and are very intuitive to use. Since foot massage is generally recommended for around 20 minutes, the manufacturer designed a built-in auto timer set to 15 minutes.
Is It Suitable For My Needs?
You can benefit from Cozzia Air Foot Massager if you are suffering from circulation problems like swelling or edema. Furthermore, it offers relief from symptoms of neuropathy and bone and joint conditions, such as arthritis. Even if you're just looking to relax after a long day, Cozzia won't leave you disappointed.
Characteristics:
No assembly necessary
Accomodates foot sizes up to 12
4 x 14.1 x 8.8 inches
4,1 kg
Conclusion: Let Yourself Fall For This Little Bubble Here
Cozzia Air Foot Massager's design and user experience are really on point. Since it is simple and you still get to choose plenty of options to tailor the massage to your liking I would highly recommend Cozzia Foot Massager. In conclusion, it is a great value for money and highly doubt it will leave you disappointed.
If you are still not convinced check out some other foot and leg massagers, and if you are specifically looking for a compression foot massager check out my air pressure leg massager review. Also, there are many other heated foot massagers, so if that is what you are looking for, here I recommend one of the best-heated foot massagers on the market.