Best 5 Leg Massagers To Choose From In 2022 Reviews + Guide
Do you want to alleviate pain in your legs by purchasing a leg massager?
Then keep on reading my post!
I will write the detailed reviews of the best leg massagers that you can currently find along with a short buying guide. Consider my tips and compare the characteristics of the leg massagers described to make the best purchasing decision.
A Guide On Buying A Leg Massager
Main Types Of Leg Massagers
Compression air massagers wrap around the legs and massage them with the help of inflating and deflating airbags. Handheld massagers are used for legs, but also for the whole body. These are portable and lightweight and perfect for muscle recovery or improving circulation. Shiatsu leg massagers use rollers or other moving parts that deliver a kneading massage to your feet or legs. These units are bulkier so consider the space you have.
Leg Massager Features To Consider
Leg massage machines usually combine different massage methods, including rolling, kneading, air compression, heat function, and vibration. Wrap-around leg and foot massagers usually use only air compression and sometimes heat. The shiatsu leg massagers usually combine more massage methods that you can use separately or simultaneously. Choose the leg massager based on your massage preferences.
Customizing Your Massage
For some people, the massage might be too intensive at the beginning so you want to look for a leg massager that allows you to adjust the massage intensity. Some leg massagers will also allow you to combine different massage modes, e.g. kneading and heat or kneading and vibration.
Size Of The Leg Massager
Before buying a leg massager machine, consider the size of your feet and calves. If you have a size larger or smaller than average, look for a leg massager appropriate for your size. Large legs and calves might not be able to fit in some leg massagers. Also, don't buy large leg massager if you have small feet because the nodes and rollers won't fit nicely on your feet and or calves.
Where To Buy Leg Massagers
I would recommend that you purchase a leg massager off of Amazon. They have a fairly large selection of different brands and different types of leg massager machines along with discount and coupons for a better deal. Customer reviews on Amazon might also help you with your decision.
Best 5 Leg Massagers Reviews
Best Leg Wraps Massager For Circulation
FIT KING Leg Air Massager For Foot And Calf Circulation Massage
Air Compression Massage
The Fit King leg massager also features airbags that inflate and deflate. The air compression massage delivers a kneading massage that relaxes your muscles, relieves pain and improves circulation. It also helps with restless leg syndrome, leg edema, and swelling. The leg massager wraps around your feet and legs.
Adjust The Massage Settings
The Fit King leg massager for circulation also features two massage modes. There are also three levels of massage intensity, low, mid and high. This massager also comes with a 20-minute auto shut-off timer. The handheld controller makes it easy to select the settings.
Extensions For Large Legs
The Fit King leg wraps massager comes with two extensions that expand the size of the massager. The maximum calf circumference that the leg massager can fit is 28.5 inches. The massager adjusts to the size of your legs and calves with the help of Velcro straps that remain functional even after many uses.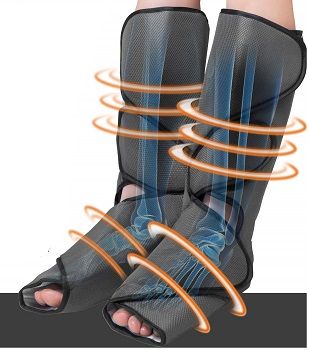 Compact And Space-Saving
The leg massager for circulation by Fit King comes with a mesh bag for storage. The massager is made from fabric and nylon, which makes it lightweight. It weighs only 3.2 pounds and can be folded so you can take it with you on trips or in your office.
Characteristics:
Air compression massage for feet and calves
Two massage modes and three levels of intensity
Suitable for large feet and calves
Best Portable Air Compression Leg Massager
CINCOM Leg Massager For Foot Calf With Controller
Emulates Human Hands
The Cincom leg massager pumps air into airbags from feet to legs in a continuous cycle. This way the massage resembles the kneading massage you would get from human hands. The leg massager relieves pain and fatigue, unties the muscle knots and helps improve circulation. It also helps with restless leg syndrome and swollen, edema and varicose legs.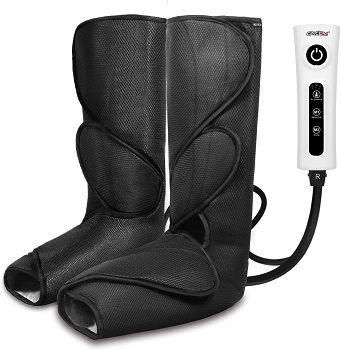 Adjust The Massage Settings
The Cincom leg massager allows you to choose two modes and three massage intensities. You can select the sequence (first the feet area is massaged, then calves) or whole mode (feet and calves are massaged simultaneously) and the low, middle or high massage intensity. The settings are selected on the handheld controller. The leg massager turns off automatically after 20 minutes to prevent overuse.
Suitable For Large Legs
You get two extensions with the Cincom air compression leg massager. You can adjust the leg massager to your calves with the help of Velcro straps and use the extensions if necessary. The circumference of the calves can be from 14.6 to 28.5 inches.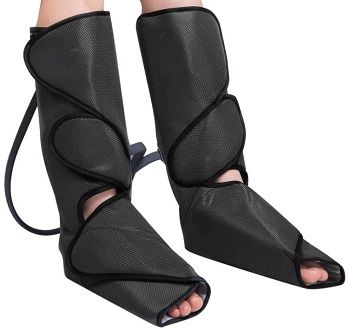 Portable And Travel-Friendly
The Cincom air compression leg massager is made from breathable soft microplush fabric. This makes it comfortable on your legs but it also extremely lightweight. You will also get a portable storage bag. You can fold the massage wraps, put them in the storage bag and take the leg massager with you on your trips.
Characteristics:
Cyclic air compression massage
Two massage modes and three intensities
Two extensions for large calves (up to 28.5 inches)
20-minute auto shut-off
Best Shiatsu Electric Leg And Calf Massager
Human Touch 200-SOL-001 Reflex SOL Foot And Calf Shiatsu Massager
Experience Foot And Calf Massage
The Human Touch Reflex SOL leg massager delivers the massage to your feet and calves. It comes in the form of a unit where you put your legs in. The rollers and vibration target the feet to relieve the pain and relax the muscles. The patented Figure-8 technology circulates the blood from the feet towards the core of your body.
Customizable Massage Modes
This shiatsu leg and calf massager allows you to select three massage modes and two intensity levels. You can also select the vibration and optional warm air technology. The heat will accelerate the healing process and improve blood flow even further. The massager uses the upward movements, wave-like motions and rolling.
Easy To Clean
The Human Touch Reflex SOL leg and calf massager has removable fabric sleeves. You can wash them in the washing machine to keep your leg massager fresh and clean. The unit has extended height to cover the whole calf area. Customers with shoe size 14 reported that they can comfortably fit their feet into the unit.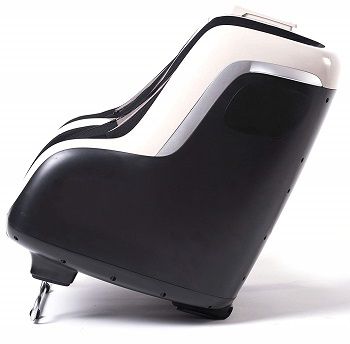 Comfortable And Easy To Use
The Human Touch shiatsu leg massager doesn't come with a remote control but the control panel on the unit can be easily accessed. The unit tilts at the optimum level of comfort so you can enjoy your massage in a comfy position. The dimensions of the unit are 18 by 19 by 18 inches and it weighs 25 pounds.
Characteristics:
Combines rollers, vibration, and heat
Three pre-set massage modes and two intensities
Removable fabric sleeves
Fits size up to 14
Ergonomic design
Best Handheld Leg And Calf Massager
Renpho Rechargeable Handheld Full Body Massager Black
Leg, Calf And Body Massager
The Renpho handheld massager can be used for massaging the whole body. You can use it on your legs, feet, calves, back, shoulders, arms, neck, etc. The five interchangeable head-attachments are specifically designed for each body part. E.g. the curved head attachment can be used for arms or legs, the 3-point head for the feet.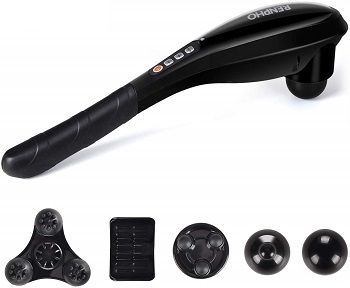 Customizable Percussion Massage
The Renpho handheld leg and calf massager delivers a percussion massage. It means that it delivers short rapid pulses deep into the muscles. You can choose between four percussion modes and adjust the level of intensity. The light indicates that the massager is in use.
Safe To Use
The Renpho handheld leg and calf massager comes with a motor that delivers up to 3600 pulses per minute. To prevent overuse and overheating of the massager, the device automatically turns off after 20 minutes. The massager relieves pain in your body and legs and works out the knots in your muscles. The silicone handle ensures that the massager won't slip in your hand.
Cordless And Portable
What makes the Renpho handheld leg massager great is that it is cordless. You just have to charge the battery. The battery on full-charge can last up to 140 minutes. In case you forgot to charge it, you can use it while it is plugged in.
Characteristics:
Used for legs, feet and whole-body massage
Comes with 5 head attachments
Adjustable massage modes and percussion intensity
Battery lasts up to 140 minutes
Best Foot And Leg Spa Massager
Kendal All-In-One Deep Foot & Leg Spa Bath Massager
Multiple Massage Modes And Features
The Kendal foot and leg spa massager combines the motorized rolling massage, heat, waterfall, water waves, and oxygen bubbles massage. It also comes with a pumice stone for exfoliation, herbal diffuser, rolling casters and the drainage filter for easy emptying of the water. To control these settings you can use the digital control panel with an LED display or the remote control that you get with the unit.
Massages Feet And Calves
Most foot spas aren't deep enough to massage your calves but this is not the case with this one. The waterfall function sprays the water to cause waves that deliver massage to your calves and feet. The water temperature goes from 68 to 118.4 degrees Fahrenheit.
Dimensions And Storage
Since this foot spa has a deep tank that fits larger feet sizes, the unit is a bit bulky. It weighs 14 pounds but it has a handle so you can move the massager easily. The leg spa massager can accommodate men's size up to 16. The measures of the unit are 18.5 inches in length, 16 inches in width and 19 inches in height.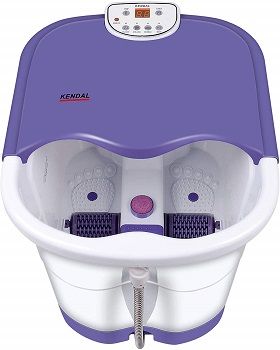 Safe For Use
The Kendal leg spa massager uses PTC heating semiconductor that accelerates the heating of the water and maintains the temperature. The massager has electric leakage protection and double insulation that prevents overheating. The plastic is high-temperatures resistant and the whole massager is ETL certified.
Characteristics:
Combines multiple massage modes and settings
Deep water tank enables the foot and calf massage
Water temperature from 68 to 118.4 degrees Fahrenheit
Remote control and LED control panel
Conclusion: Which Leg Massager To Buy?
In my opinion, the best leg massager you can choose are the FIT KING Air Compression Leg Massager and the Human Touch 200-SOL-001 Reflex SOL Foot And Calf Shiatsu Massager. The FIT KING air compression leg massager adjusts to the size of your leg and feet and can easily be transported because it is lightweight. The Human Touch Reflex shiatsu leg massager combines rollers, vibration and heat to deliver massage to your legs.
To find out more about other leg massagers and their characteristics, visit my post about the best foot and leg massagers. If you or your loved one suffer from pain in your heel, check out the best foot massagers for plantar fasciitis. If you dislike bulky units, check out the best handheld foot massagers.