Best Marnur Foot Massager Machines For Sale In 2022 Reviews
The best way to deal with pain and tension in your feet after a long day at work without spending money in a salon is – as you have probably already discovered – buying a foot massager. Since there are so many massagers on the market I've decided to break it down for you. Here is the Marnur foot massager review.
Brand For Quality And Diversity
Marnur is a Chinese company with its headquarters Shenzhen Guangdong. Their products vary from massagers to baby care products. Marnur takes special care to manufacture quality products that bring health and convenience to your home. Their products are available on Amazon.
Marnur Shiatsu Foot Massager With Kneading And Heat
Full Coverage – Deep Muscle Massage With Marnur Shiatsu Foot Massager
The Marnur Shiatsu foot massager comes with 3 different modes to choose from. Each mode is a permutation of air compression and rolling massage with different intensity levels and heating. It enables the deep kneading shiatsu that feels like you are in the hands of a professional masseur.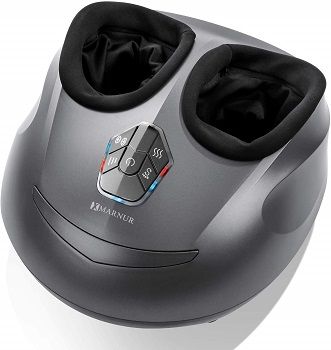 Heating And Compression Work Wonders With Tense Feet
Marnur Foot Massager has an optional heating property that enhances the relaxing massage effect. It is also beneficial for relieving foot pain and muscle tension. The 2 airbags compress your ankles which adds to the stabilization of the feet and get you that full coverage scraping massage.
Simple As ABC
Ones when you have purchased our Marnur foot massager you'll just have to plug in the power chord which is placed on the side. Before turning it on make sure your legs are put inside the massager – otherwise, it will not inflate. From then on you can freely enjoy your massager.
White, Green, Red Is All You Need To Know
Operating the unit was made really simple. There are three buttons on the top of the massager besides the on/off button. There are the heating, mode and intensity button. The led lights around the buttons change color as you choose different modes and intensity level. White indicates light, green – medium and red – the strongest setting.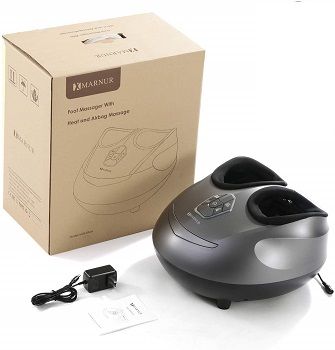 Cherry On Top
Safety comes first for Marnur foot massager shiatsu – for that reason, the manufacturer added multiple protection properties with one being a timer function that shuts off the massager after 15 minutes. Second – an overheat protection that automatically shuts down the massager if it detects high enough temperatures. There is also a safety certification that ensures safety quality.
The Gift Of Relaxation
Marnur Spa is a great way to relax your feet if you are engaged in vigorous exercise or you drive a lot. It's a great device to prevent cramping and pain after wearing heels. Since it is so easy to operate and is fashionably designed it can serve as a great gift to your loved ones.
Characteristics:
4 x 14.1 x 9 inches
3 ounces
Heating temperature 40~45℃
Comes with washable and removable cloth
Manual
Every model comes with a user manual that thoroughly explains how to use and maintain the unit. It is important for every user to study the manual before using the massager in order to ensure user safety and options. Currently, there is no user manual available online for Marnur foot massager, therefore make sure to keep your user manual at hand.
Conclusion – Marnur Shiatsu Foot Massager Machine
All in all, Marnur delivered a great massager for the price range it is in. If you are looking for a quality massager with plenty of options to choose from, you came to the right place.
But still, there are plenty of other feet and leg massagers with heat, especially compression foot massagers. Feel free to check out my review of some of the best-rated foot massagers.