Best 5 Calf Massagers To Choose From In 2022 Reviews + Guide
Do you want to buy a calf massager?
Then you should read this article!
You will find a short buying guide and the reviews of the best calf massagers currently available. Consider my tips, compare each calf massager model and buy the one that would best fit your needs.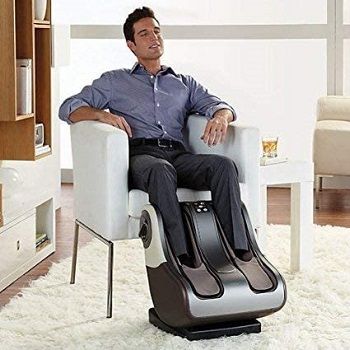 Calf Massagers Buying Guide
Why Buy A Calf Massager?
Calf massagers can help improve circulation, especially for people who are not active enough. They can relieve pain, stress or tiredness in your calves and or feet. Calf massage machines often target acupressure points which can help you sleep better and which contribute to the general feeling of well-being. Most calf massagers are made so that they simultaneously massage feet as well.
Types Of Calf Massagers
Some calf massagers wrap around the calves and often feet as well. They are lightweight and take up little space. The other type of calf massager is a unit in which you slide your legs. These are a bit bulkier and more expensive, but they often massage ankles as well. Both types will effectively massage your calves so decide based on your preferences and budget.
Massage Modes And Features
Calf massagers often combine air compression, heat, and rollers. Air compression uses airbags that inflate and deflate to massage muscles in your legs. The heat is a nice addition since it accelerates the healing process. Rollers are used to massage feet and they penetrate deep into the muscles.
Ease Of Use
Calf massagers that wrap around the legs usually come with a remote control attached to it. Calf massagers where you slide your legs have controls placed on the unit. If you don't want to bend down to reach the controls, you might want to look for a calf massager that comes with remote control.
Where To Buy A Calf Massager
I recommend that you search for calf massagers online, e.g. on Amazon. I like to recommend Amazon because they often have different discounts and coupons so you can save a few bucks. They also have different brands and models available and customers always leave their reviews and ratings.
Best 5 Calf Massagers Reviews
Best Foot And Calf Shiatsu Massager
Human Touch Reflex4 Targeted Relief Foot & Calf Shiatsu Massager
Patented Figure-8 Technology
The Human Touch calf massager is designed in such a way that it surrounds the feet and calves. The massager delivers a deep and effective massage that imitates the human touch. Figure-Eight technology helps boost circulation from the feet towards the core of the body. The rollers massage the calves in an upward, rolling or wave-like motion and improve blood circulation.
Experience Deep Massage
The Human Touch Reflex4 foot and calf massager delivers intense and powerful pressure. At first, the massage might be too intense but you can adjust the desired intensity. You can start with a lower intensity and then gradually build on as your feet and calves get accustomed to the massage. You can also choose between 4 pre-set massage modes: shiatsu 1, shiatsu 2, relax and refresh.
Ergonomic Design
The Human Touch foot and calf massager can be tilted so you can find the most comfortable position for your massage. The unit is sleek and compact and it is designed to help relieve pain in your feet, ankles, and heels, boost circulation, help with fibromyalgia or plantar fasciitis, etc. The measures of the foot and calf massager are 18 by 19 by 18 inches.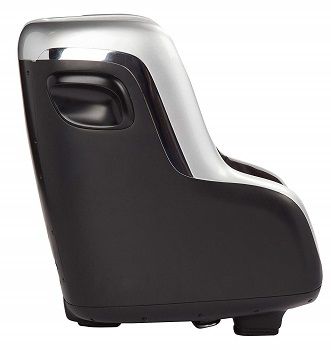 Other Useful Features
The height of the massager is extended so more of your calves get covered. It can fit men's size up to 14. The mesh sleeve inserts can be removed and washed to keep the Human Touch Reflex-4 foot and calf massager fresh and clean. To make transport easier, the massager comes with carrying handles.
Characteristics:
Completely surrounds feet and calves
Adjustable intensity and massage modes
Tilt angle for more comfort
Removable and washable sleeve inserts
Best Shiatsu Foot And Calf Massager
Cloud Massage Shiatsu Foot Massager Machine
Ensures Maximum Comfort
The Cloud Massage Shiatsu foot and calf massager comes with a comfort bar that adjusts to the optimum angle so you can find the most comfortable position during your massage. The Cloud Massager massages your feet, ankles, and calves. To get the calf massage, the unit should lay flat on the surface.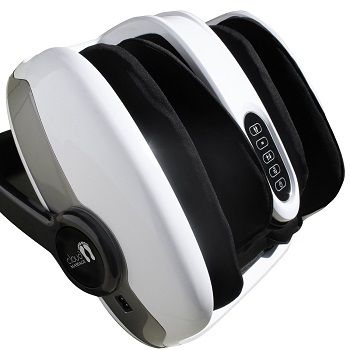 Adjust The Massage Settings
The Cloud Massage foot and calf massager combines three massage modes: vibration, air compression, and heat. The massager targets acupressure points in the feet and calves which helps you feel relaxed. The heat function delivers soothing heat to your muscles and is especially useful for improving blood circulation. The heat is optional and can be turned off or on.
Adjust The Intensity
The Cloud Massage shiatsu foot and calf massager enables you to adjust the intensity of the massage in case you feel the massage is too strong for you. You can also turn the heat on or off and select the massage modes. The massager doesn't come with remote control, but the control panel can be easily reached.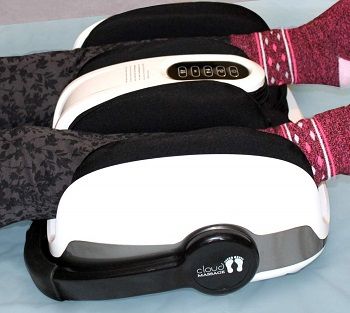 Fits All Sizes
The Cloud Massage foot and calf massager has an open massage platform, which means that it can fit large feet as well. The dimension of the foot and calf massage area are 5 inches in width and 11 inches in width so people with thicker calves will have no problems using it.
Characteristics:
Massages feet, calves and ankles
Vibration, air compression and optional heat
Adjustable massage mode and intensity
Best Lower Leg, Foot And Calf Massager With Heat
Osim uPhoria 5-in-1 Foot and Calf Massager With Heat Therapy
Delivers Deep Tui-Na Massage
The Osim uPhoria foot and calf massager delivers a Tui-Na massage. The Tui-Na massage targets the meridian points in the legs to relieve pain and promote the positive flow of energy. The calves are massaged with gliding and kneading movements that rejuvenate your sore legs.
5-In-1 Massage
Except for the calf-gliding and kneading massage, the Osim uPhoria foot and calf massager combines 4 other massage modes. The wrap-around squeeze massage focuses on your ankles while the roller reflexology targets the pressure points in the arches and balls of the feet. Vibration stimulates blood circulation and relaxes muscles, while the heat function accelerates the healing process.
Adjustable Massage Settings
You can personalize your massage by combining the preferred massage modes. For instance, combine gliding and kneading with vibration and add optional heat therapy. You can also adjust the intensity of the massage if you find it too strong at the beginning. The settings are displayed on the user-friendly control panel that is intuitive to use.
Comfortable And Hygienic
The Osim uPhoria foot and calf massager adjusts to different leg and calf sizes. The lock-lever can be adjusted at the perfect angle for you so you enjoy your massage in a comfortable position. The fabric covers can be removed and washed to keep the massager clean and fresh.
Characteristics:
Combines 5 massage modes
Customizable massage intensity and modes
User-friendly control panel
Adjustable lock-lever for comfort
Washable fabric covers
Best Foot And Calf Spa Massager
Prospera Pure Calf And Foot Spa Bath Massager
Deep Water Tank
The Prospera Pure calf and foot spa has a bathtub that is 14 inches tall so that it can massage your calves as well. The foot and calf spa combines the deep shiatsu massage rollers, heating therapy, oxygens massage and water jets. They deliver a deep tissue massage to your feet and calves.
Customizable Massage And Intensity
Shiatsu massage energizes your feet, while rollers have 3 auto programs that target the reflex zones on your feet. Two surfing jets massage your feet and legs. The water temperature adjusts from 95 to 118 degrees Fahrenheit and it maintains a constant temperature. You can also adjust the timer in 10 minutes intervals up to 60 minutes.
Full Spa Experience
The Prospera Pure calf and foot spa has a compartment where you can put bath salts, petals or herbs. They will help you unwind, relieve foot and calf pain and boost blood circulation. You can get the full spa treatment from the comfort of your home.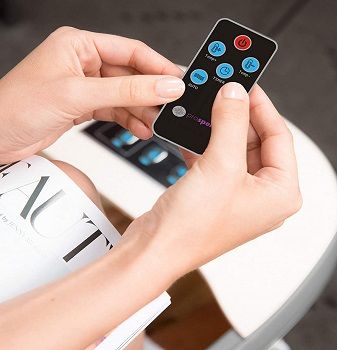 Ergonomic And Safe Design
The Prospera Pure calf and foot spa is powerful with 800 watts and speed-heating of water. It uses a quality PTC heating semiconductor and has multi-isolation protection. The foot and calf spa also has an anti-splash cover to protect your floors. The measures of the unit are 19 by 16 by 12 inches and it weighs 12 pounds.
Characteristics:
Rollers, heating therapy and water jets
Deep bathtub for calf massage
Fast water heating from 95 to 118 degrees Fahrenheit
Herbal diffusing container
Best Air Compression Portable Calf Massager For Circulation
FIT KING Leg Air Massager For Foot And Calf Circulation Massage
Air Compression Massage
The Fit King foot and calf massager for circulation deliver air compression massage. It has airbags that inflate and deflate and massage your feet and legs. The massager wraps around your feet and calves and it helps boost blood circulation and relieve pain and stress.
Choose The Preferred Intensity
The Fit King air compression foot and calf circulation massager features the low, mid and high massage intensity. You can also select two massage modes and use the timer. The time can be set to 20 minutes, after which the feet and calf massager automatically turns off. The controls are selected on the handheld controller.
Suitable For Large Feet And Calves
You get two extensions with this air compression foot and calf massager. They are used to expand the size of the massager so that it can be used by people with large calves. The calf size that it can accommodate can be up to 28 inches. The feet area is open-toed so it can fit any shoe size.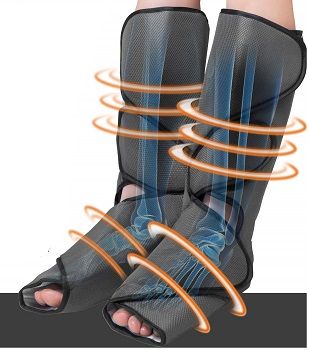 Easy To Store And Transport
The Fit King air compression foot and calf massager is portable. It comes with a mesh bag where you can store it and take it with you on trips or in the office. Since it is made from the lightweight material, it weighs only 3.2 pounds.
Characteristics:
Airbags massage feet and calves
Adjustable massage intensity and modes
20-minute timer
Fits large feet and calves
Lightweight and portable
Conclusion: Which Calf Massager To Choose?
In my opinion, the best calf massagers from the list are the Human Touch Foot And Calf Massager and the Fit King Air Compression Massager For Foot And Calf. The Human Touch massager completely surrounds your calves, but also feet. The Fit King foot and calf massager is lightweight and portable so it is perfect if you would like to enjoy a massage even when you are not home.
If you are interested in learning more about foot and leg massagers, you can read my post about the best foot and leg massagers. In case you suffer from poor circulation, you can read about the best blood circulation machines for legs. If you want to enjoy a massage that imitates human hands, check out the best shiatsu foot massagers.