Best 4 Medmassager Foot Massagers You Can Buy In 2022 Reviews
Having to struggle with pain and tension in your feet can really impact the quality of your everyday life. On top of that, medical experts and professional masseurs can quickly leave you in dire straits. Luckily, there is a middle ground to it. You can benefit from a massager made for professionals without the expenses that come with it. Check out my Medmassager reviews and maybe you'll find just what you're looking for.
Family Company
MedMassager is a USA company with its headquarters placed in Blue Ridged Mountains of North Carolina. They are a family-owned business that exists for over 70 years. MedMassager's advanced medical products are made in partnership with medical product development companies in order to improve health and wellbeing of their costumers.
For MedMassager Quality And User Experience Come First
MedMassager manufactures body and feet massagers for which they have an FDA certificate from class 1 that refers to therapeutic massagers for physical medicine. They have a registered nurse that answers all of your medical questions and customer service for all the other queries. Their products are available on Amazon and their website.
MedMassager Warranty Options
MedMassager has a one year warranty for all the purchases. But if you want to make sure you will have a MedMassager by your side anytime, you can upgrade the standard warranty to 3 years (Silver Extended Warranty) or a lifetime(Gold Extended Warranty). Within the coverage period, you can expect to have your massager repaired or replaced for no additional cost.  Moreover, if you decide to sell the unit, you can also transfer the warranty.
Best 4 Medmassager Foot Massagers Reviews
MedMassager MMF06 11 Speed Foot Massager
Made For Professionals – Used By Patients
This Med foot massager is one of the most powerful massagers available on the market. Besides being designed as a professional massager, it was added 11 speeds that vary from 1000 – 3000 rpm. In that way, you can customize the massage experience completely. It is very simple to use and adapt to your own needs.
A Massager MMF06 Holds an ISO Certificate
Med foot Massager was ergonomically designed at the perfect angle to suit the ankle and depressurize the feet. When talking about the design of Med Massager foot, within the package there is a kit that allows you to use the unit on hardwood and tile surfaces.
Medmassager benefits
MedMassagers were designed to benefit the circulatory system. Therefore if you suffer from diabetes, neuropathy, plantar fasciitis or muscle degeneration – you can expect to relieve some symptoms. Besides that, MedMassager products can help with leg cramps, pain, and tired legs – apart from dealing with more serious medical conditions.
Characteristics:
11-speed options
16 x 12 x 9.5 inches
11 pounds
Comes with a kit to use it on tile and wood floor
Versions Of MedMassager MMF06 11 Speed Foot Massager
There is an available version in a green color called Medi/rub Massager MR-3F Foot Massager 2000. That is a version with added Plantar Fasciitis Bar on top that has a pressure point targeting surface.
Medmassager Body Massager Reviews
Smaller But As Powerful
Medmassager also made a smaller cousin of Medmassager mmf06 11 – a  Medmassager body massager. Med body massager offers vibration from 400 to 4000 rpm. This smaller version allows you to reach all the other spots on your body so you can easily deal with tension in your back, legs, joints, and shoulders.
Light But Powerful
Its lightweight design and powerful vibrations result in a deep muscle massage that resolves even the biggest nodes. Med Foot Massager stimulates your circulation while the leather pad ensures skin comfort. You can easily use it with a partner.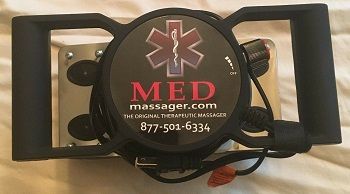 Characteristics:
Available in green color
Weights 5,8 pounds
Vibration range from 400 – 4000 rpm
Maintenance-free
Conclusion – Medmassager MMF06 11 Speed Foot Massager
Medmassager seems a great opportunity to get yourself a professional care massager and target the symptoms of medical conditions that might be stressing you out. There are many patients that claim the benefits of using MedMassager for plantar fasciitis. I would recommend the MedMassager Foot Massager to everyone looking to effectively get rid of the pain and discomfort in the feet.
There are a lot more foot massage devices – and especially foot massagers for plantar fasciitis on the market. Also, if you still haven't found what you're looking for – feel free to check out my best foot massager for plantar fasciitis.