Best 6 Homedics Foot Massagers You Can Buy In 2022 Reviews
If you have been looking for a simple device to turn to after a long day at work, you have come to the right place. Here are 6 massagers by HoMedics that are all easy to use and deliver what is necessary for a great massage. Check them out!
Health & Wellbeing Brand
HoMedics is a company that was founded in 1987 in Michigan. Since then – they create personal wellness products that have become known in the world as no. 1 brand in massage.  In their product section, there are also many beauty and fitness products to be found. Foot massagers aren't the only massage products they offer as well – there are the neck, back, travel, handheld, and sports recovery massagers.
HoMedics Customer Support
All of the HoMedics products are available on Amazon. Also, if you are not 100% satisfied with your purchase, you can return the product within 30 days and you will get your money back. For all of their products, you can get 1 or 2-year warranty in case the device breaks down.
Home Medic Foot Massager Price
All of Home Medics massagers are among the cheapest massagers available on the market. So if you are looking for a compact and light massager at an affordable price, Home Medics feet massagers are a good option to take into consideration.
Best 6 HoMedics Foot Massagers Line
HoMedics  Shiatsu Deluxe Foot Massager
Counter – Rotational Massage
HoMedics Shiatsu Massager is equipped with 10 massager nodes separated into 4 rotational heads – 2 per each foot. The outer head contains 3 nodes and the inner one 2. The principle of opposing rotation is to applied to deliver the deep kneading massage for tense and tired feet. All this makes Shiatsu possible in order to relax and rejuvenate.
Heat For Plantar Fasciitis And Neuropathy
This HoMedics massager has an added heat property which is optional. Since the benefits of heating are many, this option is a must-have for any massager that aims to deliver professional – like massage experience. The heating option usually targets circulation – cold feet, cramps and tension and fluid accumulation – edema and swelling.
Toe – Operable
The control of this HoMedics Shiatsu Massager is simple. There is no need to bend over since the massager is toe – operable. When the heat option is turned on the massaging heads will illuminate red. Also, the massager is slightly angled – and therefore allows the user to rest comfortably while using the device.
Characteristics:
Measures 13.6 x 3.6 x 9.1 inches
Weighs 4.18 pounds
Innovative rotational heads for a deep massage
Optional heating property
HoMedics Shiatsu Select Foot Massager with Heat
12 Nodes Following Reflexology Principles
This HoMedics model consists of 4 heads with 3 nodes per head. In that way, the pressure is divided into specific areas of the feet to achieve the desired relaxing effect. The intensity of the massage can be altered to the customer's liking.
Benefits Of Using HoMedics Shiatsu Select
The heating option with this Shiatsu massager brings a soothing and relaxing effect. The benefits of using this kind of massager are improved circulation and reduced tension and pain in the feet. It is recommended to all troubling with tired and overworked feet.
Elegant And Ergonomic
HoMedics Shiatsu is elegant and compact in weight and size so it can be stored in the smallest homes and offices. The unit is equipped with a breathable mesh to eliminate sweat and odor. As it precedent, it is toe – operable and convenient for use among the elderly.
Characteristics:
Measures 11.1 x 13.8 x 4.6 inches
Weighs 2,9 pounds
Equipped with heating property
Breathable mesh added
Heat option
HoMedics Shiatsu Air Max Heated Foot Massager
Air Compression For Circulatory Symptoms
The next review is about Shiatsu Air Max Foot Massager. This device delivers the massage with the help of airbags that apply compression to periodically tighten and release the feet. In that way, your circulation gets this extra push so that blood can return from the feet to the heart. That leads us to the next point:
Benefits Of Using Air Compression With Heat
Heat is very helpful with circulatory problems such as swelling and edema. The concept behind heated massage is to speed up metabolism and flush away the accumulated toxins.  So there are many who can benefit: patients with plantar fasciitis, neuralgias, and other musculoskeletal diseases but also sportsmen to speed up recovery or people with tired and overworked feet.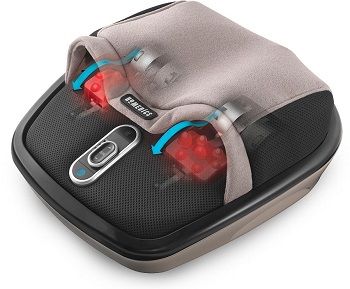 Fashionable And Convenient
The design is the first thing that draws out attention to the product. Shiatsu Air Max will catch your eye since it is fashionably designed and compact. The console is simple and easy to use. There is a big on/off button and an air compression push – button with which the user adjusts the intensity of the air pressure.  On top of all, there are soft feet covers that can be unzipped and washed – pretty convenient.
Characteristics:
Measures 15.8 x 14.8 x 5.6 inches
Weighs 7.96 pounds
Portable and compact
30-day money-back guarantee
Removable and washable feet covers
Heat option
HoMedics Shiatsu Air Pro Foot Massager with Heat
3 Modes & 3 Adjustable Levels Of Intensity
HoMedics Shiatsu Pro is also one of the models with air compression. It is adjustable with 3 levels of intensity and optional – you can keep it turned off.  The added feature with HoMedics Pro is a "mode" button which activates just air compression feature, kneading massage or combination of the two.  All you have to do is press the button and the relaxing can start.
Heat & Kneading With Shiatsu Air Pro
The new mentioned feature adjustable kneading level. There is a special button on the control board that changes the intensity of the kneading massage from low to medium and high level.  Soothing heat stayed as an integral part of HoMedics massagers to allow the massager to reach deeper tissues and achieve better results. If its turned on the indicator will illuminate red.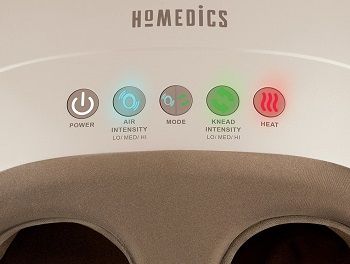 Tips For Using Shiatsu Air Pro
The massager can become too hot after an extended period of use, for that reason the auto timer is added to ensure safety. It is recommended to wear socks while using the device. Also, consult your doctor prior to using the unit. Especially if you are pregnant or you have a pacemaker. The unit shouldn't be used by diabetics.
Characteristics:
Measures 16.4 x 14.1 x 9.2 inches
Weighs 9.02 pounds
2-year warranty for this unit
15-minute auto shut – off
Heat option
HoMedics Triple Action Shiatsu Foot Massager
Straightforward Design
Triple Action by Homedics design resembles the first reviewed – HoMedics Deluxe Massager. There are no sleeves to put your feet it, and there is no air compression. That has its upsides – since there is no limit to feet size. The unit is operable by one button which is – you've guessed it –  toe operable.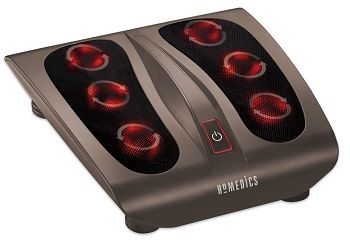 Circular And Longitudinal At The Same Time
The massager is programmed in that way so that the massage travels from toes to the heals and back – while being also circular on the targeted areas. 18 massage nodes really provide a powerful massage experience. The intensity is of the massage can be adjusted by how hard you push down on the platform.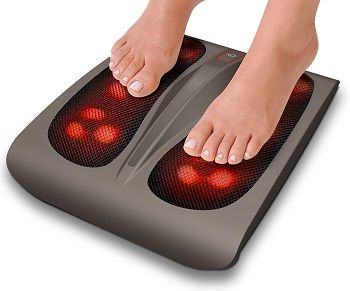 Keep It Simple – And Light
Triple Action Foot Massager is designed to simplify the use as much as possible. For instance, you can use it while being barefoot since there is a breathable mesh that prevents sweating and overheating of the feet. Lightweight and compact size are really what sells this product. Store it easily and keep it at arms reach.
Characteristics:
Measures 14.5 x 13.5 x 4.5 inches
Weighs 6.8 pounds
Large platform – no feet size limit
Heat option
HoMedics Shiatsu Flex Ankle & Foot Massager
More Modes, More Options
HoMedics Flex brings you the pleasure of shiatsu massage with is deeply penetrating massage. It has heating and a rhythmic air compression option. The intensity of the massage is also adjustable to your preference. The modes available are with HoMedics Flex are deep kneading, flex,  and air compression. There are also forward and reverse massage modes to suit even the most demanding customers.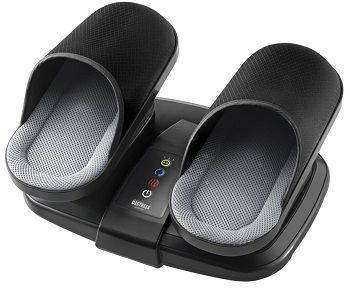 HoMedics App For Next-Gen Massage
While talking about design it has a standard control panel with 4 buttons. That is how you control all the mentioned properties above. HoMedics kept the panel for conventional use. But – there is more to it. You can get the HoMedics App and control this massager with your smartphone. Convenient to the core.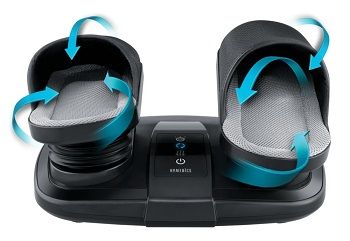 Feet And Ankles!
The fun design of this unit is the first thing that catches your eye. It can easily be mistaken with a pair of slippers laying down next to your bed. This massager also targets the ankles, since the platform it stands on moves in a circular manner. That all adds up to an ideal massager for tired and overworked feet.
Characteristics:
Measures 17.2 x 10.7 x 15 inches
Weighs 12.6 pounds
Heat option
Slipper design
Download HoMedics app to control the device
User Manuals For HoMedics Massagers
All of the instruction manuals are available online at the HoMedics website. There you can find a detailed safety and user guide for your Home Medic foot massager. It is important to read it carefully since any electric device could malfunction due to user mistakes. Keep all of your electric massagers far away from liquids and be careful for it not to overheat.
Conclusion – Which Homedics Foot Massager Would I Buy
I have to admit that for this price range Home Medics feet massagers bring a lot to the table. Many options, fashionable designs and convenient size of the massagers. Nonetheless, from all the Homediecs foot massagers line I'd definitely recommend the later one –  HoMedics Shiatsu Flex Ankle & Foot Massager.  Its design is charming and the options more than satisfactory for an average user. On top of it all – it can be remotely controlled. A great technological step forward by the HoMedics product design team.
Here you have seen a lot of compression foot massagers that were also heated foot massagers. This combination is shown to be beneficial to circulation and therefore together they go by the name of circulation massagers. Here you can see some of the best leg massagers for circulation that are also best-rated foot massagers overall.