Best 5 Infrared Foot Spa & Massagers For Sale In 2022 Reviews
Are you thinking about investing in a foot spa or massager with infrared heating?
Then you have visited the right page!
You will find the tips on buying foot massagers along with the reviews of the best infrared foot massagers on the market. Compare their specifications and then decide which one you would like to buy.
Things To Consider Before Buying Infrared Foot Massager
The Advantage Of Infrared Heat
Infrared heat foot massagers emit soothing heat that is combined with kneading motions of the massager. They target the acupressure points in the feet. The infrared heat improves blood circulation, reduces tension and stress, relaxes the muscles and helps with reducing blood pressure because of the soothing effect it has.
Massage Settings You Want
Infrared foot massagers can offer a vibrating massage, a deep kneading shiatsu massage or a combination of both. Infrared foot spas, that use water, are currently not available on the market. If infrared foot massagers have foot chambers, then they usually offer air compression as well.
Settings That You Can Regulate
Make sure that you can adjust the speed and intensity of the massage because some settings might be too intense or not intense enough for you. You also want to be able to turn off the infrared heat since you might not want to use it during the summer. If you suffer from diabetes, consult your doctor because diabetics can be too sensitive to heat.
Easy-To-Use Controls
When you are getting your infrared foot massager, consider the control panel. If you do not want to bend while changing the setting, you want to buy a foot massager that comes with a remote or where settings can be pressed with your toes.
Where To Buy An Infrared Foot Massager?
I would always recommend that you search online retailers for infrared foot massagers. I have listed the models that are available on Amazon because you can often find them on discounts and use coupons for an even better deal. You can also check out the customer reviews and see similar products that Amazon recommends for you.
Best 5 Infrared Foot Massagers Reviews
Best Infrared Foot Massager
Naipo Deep Kneading Foot Massager With Infrared Heat
Delivers Deep Kneading Shiatsu Massage
This Naipo shiatsu foot massager has three rotating heads with three deep-kneading nodes. They massage the acupressure points in the feet to reduce and relieve pain and stress. The shiatsu massage it delivers is deep and massages the whole foot. The infrared heat, when turned on, enhances blood circulation even further. The heat is mild, from 104 to 113 degrees Fahrenheit.
User-Friendly Controls
The Naipo infrared foot massager has only one toe-touch control button. This means that you do not have to bend to turn on the massager and heat, you can simply press it with your toe. The infrared heat is optional so you can turn it off or on whenever you like.
Heats The Entire Foot
The infrared heat relaxes and rejuvenates the muscles in your feet. The Naipo infrared foot massager also helps with plantar fasciitis. The 18 kneading nodes deliver deep shiatsu massage on your whole foot, from heel to toe. The recommended massage time each day is around 20 minutes.
Ergonomic Curved Design
The Naipo infrared shiatsu foot massager is tiled at a 10-degree angle. This creates an optimum level of comfort for everyone. The large massage platform is suitable for every shoe size, including the large feet. Thanks to the breathable mesh on the massage platform, the heat penetrates faster and your feet do not sweat.
Characteristics:
Rotational heads deliver deep-kneading massage
Infrared heat stimulates blood circulation
Ergonomic design with user-friendly controls
Best Shiatsu Infrared Foot Massager
Nekteck Foot Massager With Built-In Infrared Heat Function
Deep Shiatsu Massage
This Nekteck foot massager is similar to the previous model. It comes with 6 massage heads and 18 rotating massager nodes. They create the impression of a massage that you would get from human hands. The infrared heating further helps relieve and reduce pain. You can turn the heat on or off.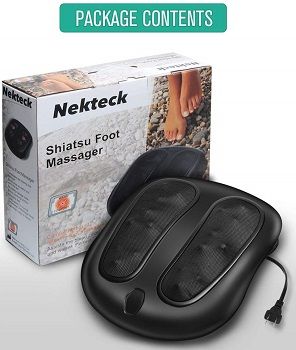 Adjust The Height
The height of the Nekteck foot massager with infrared heat can be adjusted in three different levels. This way the Nekteck massager provides the best massage experience for everyone. The foot massager can fit average-sized feet, but also the men's size up to 14.
User-Friendly Controls
The Nekteck foot massager has the controls that can be pressed with a toe so you will not have to bend when you want to use it. The on/off switch is placed on the side of the massager. To make your life easier, the massager comes with built-in cord storage and a carrying handle.
Compact And Safe
The Nekteck foot infrared foot massager is 15.8 inches long, 14.2 inches wide and 3.2 inches tall. It weighs 7.63 pounds. The infrared heat is mild for safety purposes but it gets more intense within 5 to 10 minutes of use.
Characteristics:
Provides a deep massage
Infrared heat turns on or off
Height adjustable in three levels
Easy to use and transport
Best Blood Circulation Infrared Foot Massager
Sunpentown Infrared Blood Circulation Massager
Improves Blood Circulation
Sunpentown Infrared Blood Circulation Massager uses high-frequency vibrations and powerful magnetism. The infrared heat treatment strengthens the immune system and resistance to illnesses. The massager improves blood circulation and helps unblock blood vessels by massaging the acupuncture points in the body.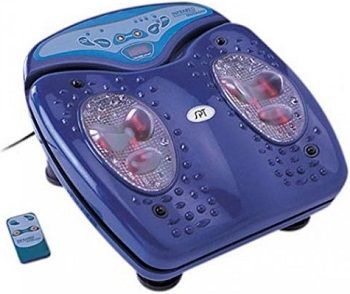 Adjustable Massage Settings
This foot massager allows you to choose between 8 infrared treatment options and you can adjust the massage intensity up to 12. The timer can be set up to 15 minutes, which is an optimal massage period each day. You can also set it for 5 or 10 minutes. There are also automatic and manual modes available.
Remote Control
The Sunpentown Infrared Blood Circulation Massager comes with remote control for easier usage but it does not have all the features. You can adjust other settings on the control panel on the massager. The controls include the Power, the Timer, arrows for adjusting speed, Infrared button and a Calorie reset button. The LED indicators display the time.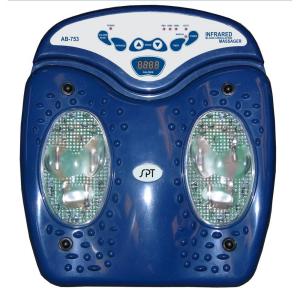 Plastic Blue Design
This infrared massager is made from plastic so it does not look fancy. The massager is 14.5 inches long, 13 inches wide and 7.75 inches tall. It can be used on other parts of the body as well, but it is quite heavy with its 11 pounds so it is best it be used for feet. Vibrations can be too loud for some people but foot pain is alleviated after using it.
Characteristics:
Uses vibrations and magnetism
Massages acupuncture points in the body
A good range of settings
15-minute timer
Remote control included
Best Air Compression Far-Infrared Foot Massager
TruMedic TruShiatsu PRO Foot Massager With Heat
Experience Shiatsu Massage
The TruMedic massager combines kneading rollers, heat, and air compression. They target acupressure points in the feet so it relieves pain, stress and tension from your feet. The massage is similar to the one you would get in a salon. A 15-minute massage each day can greatly reduce your pain and you do not have to visit spas or salons.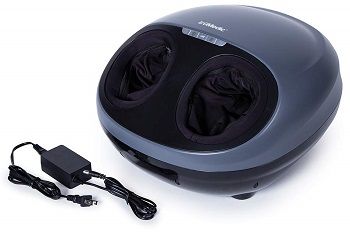 Adjustable Massage Settings
The TruMedic allows you to choose between 3 different time settings and 3 different massage intensities. You can also choose to use far-infrared heat or not. The heat provides even deeper massage to further help reduce pain in your feet. It can also help in combating stress.
Control Panel
The control panel on the TrueMedic TruShiatsu massager is placed at the front of the device. The downside is that it might be difficult to press the buttons with your toes so you might have to bend when you want to adjust the settings. Other than that, the controls are intuitive and you will easily navigate them.
Ergonomically Designed
The TrueMedic Pro Foot Massager is designed so it complements the structure of the human foot. This way every muscle gets its treatment. The rollers and eight compression airbags massage even the hard-to-reach muscles, especially when the infrared heat is turned on.
Characteristics:
Features kneading roles, heat and air compression
Targets acupressure points in the feet
Adjustable time and massage intensity
Ergonomic design complements human foot
Best Home Infrared Foot Massager
Arealer Foot Massager With Remote Control And Built-In Infrared Light
Experience Spa Massage At Home
The Arealer Infrared Foot Massager has six massage rollers and each roller has three massage points. This way every part of your foot gets massaged. The rollers deliver acupressure effect and target the acupuncture points on your foot. You can also use it to massage your calves or arms. The direction of the massage can be changed to your liking.
Infrared Light
The infrared heating function can be turned on and off. It improves the circulation in your feet. You can use it before sleep to help you relax and soothe your muscles. If you have trouble falling asleep because your feet are cold, this might be the solution.
Adjust The Speed And Angle
The Arealer Foot Massager has three different massage speeds, low, medium and high. The foot massager comes with an adjustable stand. It provides a comfortable massage angle for everyone and you can use it wherever you like. The massager has the control panel on the front of the device but you also get a remote control that wraps around your arm.
Compact Dimensions
The Arealer Foot Massager with infrared light is 16.1 inches wide, 15 inches long and 4.7 inches high. It weighs 7.2 pounds. The materials where you rest your feet are skin-friendly so they allow your skin to breathe without causing irritation.
Characteristics:
Targets acupuncture points
Can be used for calves or arms as well
Adjustable speed and direction of the massage
Conclusion: Which Infrared Foot Massager To Buy?
In my opinion, the best infrared foot massagers are the Nekteck Foot Massager With Built-In Infrared Heat and the TruMedic truShiatsu Foot Massager. The Nekteck foot massager has triple massage heads for deep kneading shiatsu massage and it is suitable for large feet. The TruMedic foot massager features kneading rollers, heat and air compression that target acupressure points in your feet. Both massagers have the infrared heat that can be turned on or off.
If you want to explore other massagers, check out the best foot and leg massagers. If you suffer from plantar fasciitis, I recommend that you see which are the best foot massagers for plantar fasciitis. If you found the foot massager with air compression interesting, then you should check out the other best air compression foot massagers.