Best 5 Conair Foot Massagers You Can Buy In 2022 Reviews
Having a massager at your home or office has a lot of positive sides – for instance, you can rest and relax without paying a fortune to spa centers and professional masseurs. On top of that, you still get to soothe the muscles and rejuvenate the skin. So if you don't have one of those massagers, scroll on and see why is everyone talking about Conair foot massagers.
Conair Succes Story
Conair is a USA company situated in Glendale Arizona, about 9 miles from Downtown Phoenix. They started their business back in the 1960s with an innovative new hair drier. Form there on the company expanded into a 2 billion dollar industry. Nowadays their product section consists of wellness and beauty products, as well as travel essentials and accessories.
Conair Body Benefits Foot Spa Line
When it comes to massagers – Conair specializes in heat therapy and foot spa. Conair Foot Spa line consists of 5 different massagers. All of them have their special traits and options so there is a perfect match for nearly anyone. Conair succeeded in making an affordable massager that relieves the tension and relaxes the user.
Welcome To The World Of Conair Relaxation
Conair Body Benefits Line Of Massagers
Conair Foot Spa With Soothing Vibration
No Splashing, No Leakage
This Conair foot massager is equipped with vibration and heat. Conair designers made this massager so that you can operate it easily with your toes. On top of the unit, there is a pinpoint massage attachment. The reservoir is deep and there are added guard nodes to ensure no splashing and leakage. Since safety should come first with massagers with water, Conair added a nonslip surface.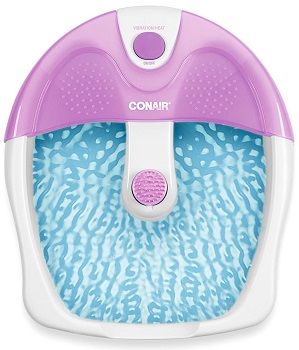 Foot Spa With Vibration & Heat
Conair massaging spa has added rollers which are not automatic, therefore you have to move your feet to get the massaging experience. The massaging rollers are removable. Conair massaging spa can be used with or without heating option, but it is important to say that the heating is only there to maintain the temperature of the added water. You can choose from cold, warm and hot water.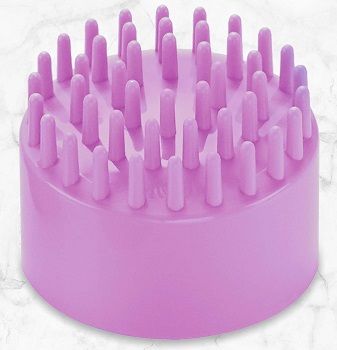 Use To Pamper Your Feet After A Long Day
Conair foot spa with vibration & heat is recommended for anyone experiencing soreness in the feet. Conair suggests that the best way to reduce the tenderness is to ice the feet first, use the massager and then stretch the feet. The vibration option adds to the spa relaxation effect.
Characteristics:
5 x 14.6 x 16.6 inches
8 pounds
Comes in white and lavender color
6-foot cord
Conair Waterfall Foot Spa
Lights and Bubbles
This Conair spa massager has some extra properties if compared to the first one reviewed. With this one, you get heat, bubbles, and lights. To adjust and operate the functions just press one of the 3 buttons on top of the unit. All of the buttons are made as a toe-touch control.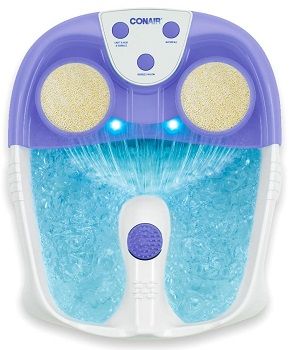 3 Attachments & Loofag Discs
Conair added 3 attachments to this device: scrub brush, pumice stone, and a soft-touch massager to provide you everything necessary for a real spa experience. Moreover, the Conair Waterfall foot bath offers to smooth the skin with integrated exfoliating loofah discs – getting you that real spa pedicure experience
Waterfall Foot Spa  – No Slipping Or Splashing
Conair waterfall foot spa unit has added rubber surface for the non-slip property. The tank high so that splashing will be reduced compared to other devices. Conair Waterfall foot spa is equipped with massaging rollers that are non-automatic. The heating function also exists to maintain the starting water temperature – not to heat it.
Characteristics:
Colors available are purple and white
6 x 13.5 x 16.5 inches
5 pounds
With exfoliating loofah discs
Conair Foot/Pedicure Spa
Aerated Massaging Bubbles
This Conair Foot Spa is focused on the bubbles. On top of this massager, there is just a single button that controls it. Bubbles are produced by the 2 bubble strips that create aerated bubbles for the proper spa experience. Heating property is here also just to maintain the temperature of the added water.
Conair Relaxing Foot Spa With Bubbles
Conair relaxing spa footbath has a recognizable deep massage pinpoint. But with this massager, you get 3 interchangeable attachments for the pinpoint: arch massager, all-purpose massager, and a soft-touch massager.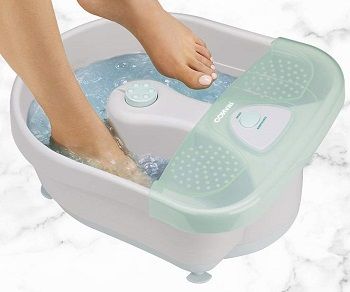 Simple And Safe
To ensure safety there is a non-slippery rubber surface. Also to prevent splashing this device has an added translucent splash guard with footrest. The feet of the massager are non-slip and provide stability for the massager. A manufacturer also added a line to mark the maximum water level.
Characteristics:
Weights 1.1 pounds
3 attachments
2 bubble stripes to produce bubbles
Designed to prevent slipping and splashing
Comes in green and white color
Conair Foot – Pedicure Spa with Massage Bubbles
Pinpoint Massage For Deeply Soothing Effect
This model from the Conair Foot Spa line has heat, vibration, and bubbles. It has a characteristic Conair Body Benefit design with the massaging pinpoint protruding to the middle of the massager. Attachments for this Conair foot massager are single large node, double large node and a pinpoint mode.
Ergonomic Design For Complete Spa Experience
Conair has added a leg rest and a spot massage function with this model.  Just an important detail with this massager is that it doesn't heat the water, it just keeps the warmth – therefore it causes a bit of an inconvenience if in a hurry for instance.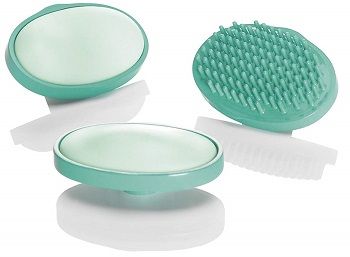 Versatile Massaging Foot Bath
You can expect to take off the weight off your feet with this Conair foot massager. Since the tank is deep, you can comfortably target also the lower calves. The manufacturer suggests putting essential oils or salt for the optimal relaxing effect.
Characteristics:
2 x 13.9 x 16.9 inches
Weights 5.25 pounds
3 pedicure attachments
It can accommodate feet up to size 14 US
Comes in green and white color
Conair Heat Sense Heated Foot Spa/Pedicure Spa
Conair Deluxe Foot Spa
For this Conair foot spa with bubbles, massage & heat the massage rollers are available and can be put and taken off. They are not automatic, so you have to roll the feet to massage them. The simple design stayed the Conair signature move. There is a single button that is toe – operable, so there is no need to bend.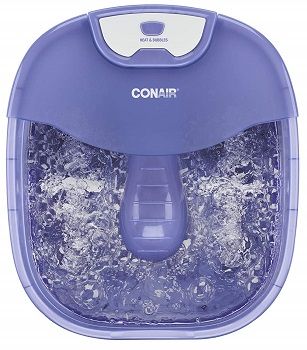 Heated Foot Bath
The heating with the latest Conair Spa is something completely different. This is the only Conair massager that has a heating sensor and can heat up the water up to 107 degrees F. The other properties are shared with the reviewed models. There are vibration and bubbles to soothe the tired feet.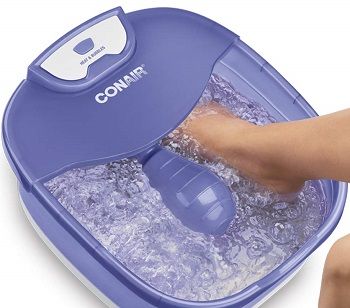 Safety And User Experience
Conair body benefits foot spa massagers are all equipped with non-slippery rubber surfaces, including this one. The unit designed with a deep tank to prevent splashing. Conair deluxe foot spa seems perfect as a gift to your loved ones, especially for older people – since it's so easy to use.
Characteristics:
7 x 14 x 16 inch
Weights 3.85 pounds
Toe touch control
Maximum 35 minutes to heat the water
Comes just in purple color
Conair Foot Massager User Manuals
Conair has a great website with a lot of manuals available there. They are brief and offer instructions and safety measures with all the details you need to know before starting the journey. Make sure you read it carefully before using the massager.
The manual for Conair foot bath with vibration & heat is available here
Conair pedicure massaging foot spa instruction manual is available here
Foot Spa with Vibration & Heat instructions manual and safety guide is available here
Conclusion – Foot Spa With Bubbles
To conclude the review I have to say the best Conair foot massager on the market is the later Foot Spa With Bubbles And Heat. It is the only that has a heat sensing technology and is able to heat the water no matter the starting temperature. Other properties it shares with its cousins, so there is vibration, bubbles, and ergonomic design.
Believe me when I say that finding a perfect foot massage device is not a simple job. Wheater you are looking for a heated foot massager or foot bath massager with heat the choice is overwhelming. For that reason, I try to analyze the devices and suggest the best ones. Here is one of my reviews about the best-rated foot massager.