Best Sable Foot Massager For Sale In 2022 Reviews & Tips
This Stable Foot Massager Review is created to give you the best possible insight into a world of Sable massagers. If you keep searching for a soothing massage at a convenient price, scroll on and check out this new Sable heated foot massager.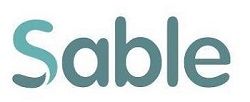 Brand For Home And Outdoors
Sable is a company that offers a spectrum of quality health and household products, sport and outdoor equipment – but they also manufacture beddings, baths, and home and kitchen products.  Their products are all available on different webshops like Amazon and their support team is conveniently reachable via email.
Sable Massagers Offer More
Sable brand got their massage manufacturer reputation as they engineer all sorts of massagers and related devices: neck, shoulder and back massagers that can be stationary, handheld or even in a form of a pillow. Their goal is to pamper you at an affordable price.
Sable Shiatsu Foot Massager Review
Some of us don't even remember the last time they were pain and discomfort free. For that reason getting a Sable Foot Massager can be a great way of feeling our old selves.
5 Buttons To Personalise Your Massage
This Shiatsu was designed with rollers and airbag cushions that relieve the pressure while you enjoy the massage itself. Options with this Sable Foot Massager are made to suit anybody's needs. The massager has three different modes to choose (low, medium and high intensity). There is an optional heating feature that warms your feet to a comfortable 45° Celsius to jumpstart your circulation. A great property of Shiatsu Foot Massager is its adjustable auto timer that can be set to 15, 20 or 30 minutes.
Appealing And Practical
Sable Foot Massager is designed in a modern and fashionable manner, and therefore convenient for office or home interior. The massager is equipped with the washable removable cloth, so you can enjoy and share the massager with ease. It is suitable for shoe sizes up to 11 for men and 12 for women. The massager is FDA approved which wraps around this great product by Sable.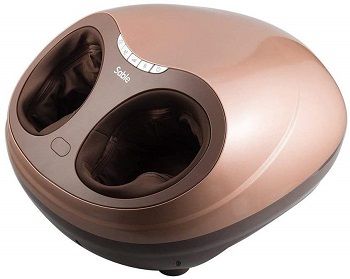 Say Goodbye To Pain And Discomfort
The struggles with painful muscles in your feet can be quite limiting to everyday life. Sable Foot Massager deals with it quite successfully, since it applies Shiatsu massage to strategically target acupuncture points of your soles. Moreover, symptoms of plantar fasciitis and problems with circulation fall under the domain of this device.
Characteristics:
75 pounds
9 x 10.8 x 18.5 inches
Golden color
Package includes foot massager, adapter and a user manual
Conclusion – Stable Heated Foot Massager Review
Stable Foot Massager discussed in this article shows to be a well thought massaging device. It puts the table essential and optional properties of a great massager. I would refer to its appeal – that is pleasing to the eye, and the functionality to be this Stable Foot Massager's best traits. I'd recommend this device to anyone suffering from cramps, edema or any other circulatory problem that manifests in your feet.
If your mind is still not made up which foot massage device to purchase – there are more foot circulation massagers available. And to deepen the search for a shiatsu foot massager with heat, check out the article about the best shiatsu foot massager on the market.